This Week in Trump-Russia News: Rosenstein keeps his job — for now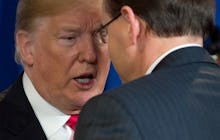 It appeared to be a defining day in the Russia probe.
Rod Rosenstein, coming off explosive reports that he discussed trying to oust President Donald Trump last year, was said to be out — or on his way out — of the Department of Justice on Monday.
Some reports suggested he'd resigned. Other outlets reported that he was on the cusp of being fired by chief of staff John Kelly.
It was a confusing, chaotic day — and the fate of the Russia probe, which Rosenstein has overseen since last year, seemed to be in the balance.
But by the end of the day, Rosenstein was still the deputy attorney general, and Robert Mueller's investigation was safe.
For now, at least.
Here's what unfolded in the Russia investigation this week — and what you can expect in what could be a dramatic week in the probe coming up.
Kavanaugh hearing delays Rosenstein meeting
The White House announced Monday, amid reports of his ouster, that Rosenstein would be meeting with Trump on Thursday.
But in an off-the-rails press conference Wednesday afternoon, Trump indicated that he may delay his Rosenstein rendezvous because of the Senate Judiciary Committee hearing on Brett Kavanaugh's sexual assault allegations, which was also scheduled for Thursday.
On Thursday, as Palo Alto University psychology professor Christine Blasey Ford testified about Kavanaugh's alleged misconduct, the White House announced that Trump had, in fact, postponed his Rosenstein meeting.
"They do not want to do anything to interfere with the hearing," White House press secretary Sarah Huckabee Sanders announced.
Rosenstein's fate could be decided next week
It's not clear what will come out of the expected meeting between the two next week.
After the New York Times reported Sept. 21 that Rosenstein had discussed secretly recording Trump and recruiting Cabinet members to invoke the 25th Amendment, it seemed more likely than ever that he could be fired.
But some prominent Trump allies cautioned him against terminating the deputy attorney general, as it could be viewed as an attempt to obstruct the Russia probe, and the president himself on Wednesday suggested he may keep Rosenstein in his post.
"I would much prefer keeping Rod Rosenstein, much prefer," Trump said in a wild press conference Wednesday.
In that presser, Trump said that he'd discussed the matter with Rosenstein in a "good talk" earlier in the week and that the deputy attorney general had told him the Times bombshell wasn't true. He then reiterated his oft-repeated claim that "there was no collusion, there was no obstruction."
His comments on Rosenstein were remarkably measured, given his numerous public broadsides on the deputy attorney general as part of his ongoing effort to undermine the Russia investigation.
Rosenstein has overseen that probe since Attorney General Jeff Sessions, with whom Trump has also feuded, recused himself from matters related to Russia in early 2017.
His potential termination could have a significant impact on the Mueller investigation, as the probe would likely be inherited by solicitor general Noel Francisco — a Trump ally who has previously suggested he has an expansive view of executive power.
Rosenstein is due to meet with Trump this coming week. He has also reportedly agreed to meet with House lawmakers over the Times report in the coming weeks.
Trump warns China, but not Russia, over meddling
Trump on Wednesday issued perhaps his strongest warning yet against foreign interference in American elections — targeted at China, not Russia.
"China has been attempting to interfere in our upcoming 2018 election — coming up in November — against my administration," Trump said during a meeting of the United Nations Security Council Wednesday morning. "They do not want me or us to win because I'm the first president to ever challenge China on trade, and we are winning on trade. We are winning at every level."
While he called out China over their alleged meddling efforts, he said nothing at the U.N. on Wednesday about Russia's ongoing election interference campaign.
Trump has repeatedly shown himself reluctant to address Russian meddling, which U.S. intelligence agencies have concluded was conducted in an effort to help him win the presidency.
He has also relentlessly railed against the Mueller investigation into Russia's interference, frequently describing the probe as a "witch hunt."
His strong comments on China came as his administration wages a trade war against Beijing over what he described in an address to the U.N. General Assembly this week as an unfair trade relationship.
"We don't want them to meddle or interfere in our upcoming election," Trump said of China during the Security Council meeting Wednesday.