While You Weren't Looking: 5 stories from the Trump administration that aren't about loving beer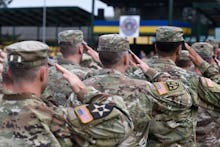 Christine Balsey Ford came to Washington, D.C., on Sept. 27 to testify before the Senate Judiciary Committee about the night she publicly alleged Brett Kavanaugh, President Donald Trump's second Supreme Court nominee, attempted to rape her during a small house party in the summer of 1982.
During the proceedings, Republicans foisted the job of poking holes in Ford's story onto an independent prosecutor, whose line of questioning was frequently interrupted so that senators could cut in with their own queries. When Kavanaugh finally emerged to testify before the committee, he was bellicose and emotional, accusing senators of smearing his good name and of putting his family "through hell."
While Kavanaugh was teaching us the rules of "Devil's Triangle," — which is, of course, the classic drinking game loved by all — here are five stories from the Trump administration you may have missed.
New FBI data shows that marijuana arrests are on the rise, despite legalization
Newly released FBI arrest data from 2017 shows that despite the fact that four new states legalized marijuana, more people were taken into custody over possession of the drug than for all violent crimes put together.
According to the data, 599,282 people were arrested for marijuana possession in the U.S. in 2017 — up from 587,516 in 2016. On the other hand, arrests for cannabis sales saw a decline during the same year period, from 65,734 in 2016 to 60,418 in 2017.
Don Murphy, federal policies director for the Marijuana Policy Project, told Forbes in an interview that the number of arrests was not proportionate to the affects of marijuana use.
"At a time when more than 100 deaths per day are caused by opioid overdoses, it is foolish to focus our limited law enforcement resources on a drug that has caused literally zero," he said.
The Army failed to meet its annual recruiting goal for the first time in 13 years
The United States Army has failed to meet its annual recruiting goal for the first time in 13 years, and is blaming lagging enlistment numbers on a stronger-than-usual economy.
According to ABC News, 2018 brought in about 70,000 new Army recruits — approximately 8.5 percent shy of the year's goal of 76,500 recruits.
Hank Minitrez, an Army spokesman, told the network that the lag was due to "a strong economy, and a lower propensity among the population of 17- to 24-year-olds to enlist."
"Only 1 in 4 [of the] 17- to 24-year-olds in the nation are actually qualified to enlist, and of those, only 1 in 8 have a propensity to enlist," Minitrez said. "All of those factors make for a difficult recruiting environment."
Federal health officials canceled an FDA contract for all human fetal tissue research
The Department of Health and Human Services announced on Monday plans to cancel an FDA contract for research on human fetal tissue and similar research projects, citing the "serious regulatory, moral and ethical considerations involved."
The decision effectively puts the kibosh on a $15,900 contract between Advanced Bioscience Resources and the FDA, which would have seen human fetal tissue used to engineer a mouse's immune system to more closely resemble a human's for study, according to BuzzFeed News.
Lawrence Goldstein, a professor at the University of California, San Diego School of Medicine, told BuzzFeed News that mice with human immune systems are "incredibly valuable for research of terrible diseases." He added that "there really is no alternative."
The use of fetal tissue in medical research has deep ties to the abortion debate that has continued to roil the nation.
Trump administration plan to spend $100 million to defend Earth from killer asteroids could be held up by ... congressional gridlock
The Trump administration has already made it clear that it wants to make space a priority; now, according to Politico, asteroid defense here on Earth is the next frontier. But congressional gridlock on the federal budget could prove an obstacle.
According to the report, the White House is angling to more than double the budget for NASA's "planetary defense" office amid concerns about an "ever-growing number of asteroids" that could potentially strike Earth at any time.
The money to fund the program for planetary defense is tied up in a spending bill that Congress has yet to agree upon — meaning that NASA's mission to save the planet from a potentially disastrous asteroid impact will have to wait until Republicans and Democrats come to a consensus on something.
Earth — it was nice while it lasted.
FCC announces plan to fine robocall company $37.5 million for shady practices
In an attempt to crack down on companies spamming phone users with robo-solicitations designed to obscure who the actual caller is, the FCC is trying to make an example out of one such agency by hitting it with a hefty $37.5 million fine.
In a Wednesday statement, the FCC announced that it was targeting Affordable Enterprises of Arizona with the lawsuit after the company apparently made "millions of illegally spoofed telemarketing calls that appeared to originate from consumers and other numbers not assigned to the company."
Spoofing, in this instance, refers to the practice of using real people's phone numbers to mask where the call is really coming from. According to the press release, one innocent Arizona woman was receiving an average of five angry phone calls per day as a result of the practice from people demanding that she stop calling their cell phones.
"This is the Commission's first major enforcement action against a company that apparently commandeered consumers' phone numbers," the FCC said in the statement.