Trump won't say if he'll authorize FBI probe, calls Ford's testimony "compelling"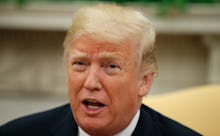 President Donald Trump on Friday declined to say if he'll call for an FBI investigation into sexual assault allegations against Brett Kavanaugh — minutes after Sen. Jeff Flake (R-Ariz.) announced that he may not vote to confirm the Supreme Court nominee without a probe.
"I'll be totally reliant on what [Sen. Chuck Grassley] and the group decides to do," Trump said in the Oval Office. Grassley is the chair of the Senate Judiciary Committee.
Flake on Friday voted to move Kavanaugh's nomination from the committee to the full Senate, but suggested he would not vote to confirm the judge without "short pause" to allow for a more thorough investigation of Christine Blasey Ford's accusations.
Trump, who was meeting with Chilean President Sebastián Piñera on Friday, was noncommittal when asked about the dramatic vote on Capitol Hill. He did suggest he was open to a delay, telling reporters that "whatever [the senators] think is necessary is OK."
"I think it will work out very well for the country," he said. "If that happens, I'm happy."
It's not clear yet what will happen next in the Kavanaugh confirmation process.
After outreach from Democrats, Flake called for a one-week delay in the vote to allow for an investigation. While Flake cannot personally authorize an investigation, Republicans will likely need his vote if they want to confirm Kavanaugh to the nation's high court, as Sen. Lindsey Graham (R-S.C.) acknowledged in comments to reporters Friday.
"The last time I looked, you need 50 votes [to confirm]," Graham, one of Kavanaugh's fiercest defenders, said after the committee vote Friday.
Sens. Susan Collins (R-Maine) and Lisa Murkowski (R-Alaska), both of whom have expressed concern about Kavanaugh's confirmation in the wake of the allegations, are also being closely watched. Flake's call for an FBI probe before a full vote was joined by Murkowski on Friday afternoon.
The committee vote Friday came a day after Ford, a psychology professor at Palo Alto University, detailed her allegations of sexual assault against Kavanaugh before the panel. Later in the day, Kavanaugh issued a defiant, at times angry denial in his own testimony.
In the Oval Office on Friday, Trump said Ford's testimony was "compelling" but lauded Kavanaugh's denial as "something I've never seen before."
"It was really incredible," Trump said.
Flake appeared undecided following the historic hearing, but on Friday morning announced he'd vote yes on Kavanaugh. His call for an FBI investigation came after he was confronted Friday morning by protesters who said they were victims of sexual abuse.
"You're telling all women that they don't matter," one of the protesters said.
Flake did leave himself some wiggle room to vote to confirm Kavanaugh even in the absence of an FBI investigation. He said he would "only be comfortable moving on the floor" after a one-week investigation, but did not explicitly say that he would definitely vote no without the delay.