Jason Van Dyke found guilty of second-degree murder in death of black teen Laquan McDonald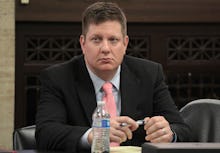 A jury on Friday found Chicago police officer Jason Van Dyke guilty of second-degree murder in the 2014 shooting death of 17-year-old Laquan McDonald, the Chicago Tribune reported. Van Dyke had pleaded not guilty to the charges, claiming he shot McDonald in self-defense.
He was also found guilty of 16 counts of aggravated battery with a firearm.
The jury deliberated for seven and a half hours and heard from 44 witnesses over 10 days during the course of the trial. The panel of eight women and four men included four white women, three Latina women, three white men, one black woman and one Asian man, according to the Chicago Sun-Times.
McDonald was shot 16 times on the night of Oct. 20, 2014, according to an autopsy. The Chicago City Council shelled out a $5 million settlement to the McDonald family on April 14, 2015. But the city of Chicago refused to release the dashcam footage of McDonald's death and held the video until Nov. 24, 2015, a week after a judge ordered its release. The police department received backlash for holding the video for more than a year; Chicago Mayor Rahm Emanuel fired police superintendent Garry McCarthy amid protests calling for McCarthy's resignation.
During closing arguments Thursday, special prosecutor Joseph McMahon said it was unnecessary for Van Dyke to continue shooting at McDonald's body as he lay on the ground.
"Jason Van Dyke chose not to stop, instead he chose to shoot some more," McMahon said, according to the Chicago Tribune. "Laquan McDonald was knocked down almost instantly and at that point any threat was completely extinguished."
Defense attorney Daniel Herbert said McDonald was responsible for what happened to him the night he was killed and claimed Van Dyke was just doing his job.
Van Dyke and the other officers are "here to serve and protect. They can't retreat. They can't run away like that. And they have to encounter people who create their own destiny," Herbert told the jury, the Tribune reported.
Herbert also said McDonald was "the author, the choreographer of this story," Herbert said. "Jason Van Dyke had to be brought into it."
During the trial, jurors saw an enhanced version of the video prepared by FBI expert Mark Messick. The defense also presented an animated version of the footage, which depicted the teen moving closer to Van Dyke before the officer shot him.
Jurors also heard from prosecution witness Xavier Torres, who said the McDonald "looked like he was trying to get away from the officers," CNN reported. Torres said he did not see McDonald holding a knife.
Van Dyke is the first Chicago police officer in decades to stand trial for a murder in an on-duty shooting.