Kavanaugh vote delayed by a week for FBI investigation into sexual assault allegations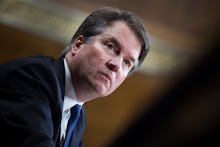 Senate Republicans announced on Friday that they will delay the confirmation vote on Supreme Court nominee Brett Kavanaugh by one week, in order to allow the FBI to investigate the sexual assault allegations leveled against him.
The announcement comes after Republican Sens. Jeff Flake of Arizona and Lisa Murkowski of Alaska announced they would not vote to confirm Kavanaugh unless the FBI took a week to look into the allegations by Palo Alto University professor Christine Blasey Ford, as well as those from two other women.
Democrats have been pushing for an FBI probe since Ford's allegations became public. Republicans only agreed after both Flake and Murkowski made it clear they could have sunk Kavanaugh's confirmation vote had they not had their demand for an investigation met.
The Senate Judiciary Committee gave Kavanaugh a favorable vote out of committee on a strict party-line vote, and were set to begin procedural votes to advance Kavanaugh's nomination to the full Senate on Saturday.
The delay comes with potential downsides for both Republicans and Democrats.
Should the FBI find any evidence that Kavanaugh was not truthful, or that the allegations are credible, then Republicans will be in a tough spot to confirm him. If the FBI does not find any corroborating evidence for the allegations, then it could squeeze Democratic lawmakers in states President Donald Trump carried by wide margins to feel they had to vote to confirm Kavanaugh's nomination.
For now, it's unclear who the FBI will reach out to and speak with.
Meanwhile, the Associated Press reported that Mark Judge, a high school friend of Kavanaugh who is alleged to have been in the room during Ford's assault, has agreed to an interview with investigators.