FBI begins investigation into Brett Kavanaugh sexual assault allegations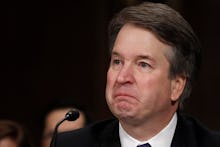 The FBI has begun its investigation into allegations of sexual assault against Supreme Court nominee Brett Kavanaugh, President Donald Trump announced Friday.
"Just started, tonight, our 7th FBI investigation of Judge Brett Kavanaugh," Trump said in a tweet Friday night. "He will someday be recognized as a truly great Justice of The United States Supreme Court!"
Trump announced that the FBI had started probing the abuse allegations shortly after Republicans agreed to delay the confirmation vote on Kavanaugh to allow for such an investigation.
In a dramatic turn of events earlier Friday, Sen. Jeff Flake (R-Ariz.) suggested he wouldn't vote to confirm Kavanaugh without a "short pause" for a more thorough FBI probe. Sen. Lisa Murkowski (R-Alaska), another key swing vote, also announced her support for a delay Friday.
Three women have publicly accused Kavanaugh of sexual misconduct.
Christine Blasey Ford, who was the first to go public with her allegations earlier this month, testified before the Senate Judiciary Committee on Thursday in an emotional hearing, detailing Kavanaugh's alleged attack on her and how it has impacted her life in the years since.
But Kavanaugh emphatically denied the accusations and said the allegations against him were part of a "political hit" by Democrats to derail his nomination.
Democrats in the hearing called for an FBI investigation into the matter, but Republicans rejected their demands. Additionally, Trump has falsely claimed since the allegations first surfaced that the "FBI really doesn't do that," despite the fact that former President George H.W. Bush ordered a similar FBI investigation into Anita Hill's sexual harassment accusations against then-Supreme Court nominee Clarence Thomas during his own confirmation process in 1991.
But on Friday, when it appeared they might not have the votes to confirm Kavanaugh without allowing a probe, they agreed to delay the confirmation vote by a week and Trump directed the FBI to investigate.
"I've ordered the FBI to conduct a supplemental investigation to update Judge Kavanaugh's file," Trump said in a statement Friday. "As the Senate has requested, this update must be limited in scope and completed in less than one week."