North Korea says there's "no way" it will denuclearize if it can't "trust" US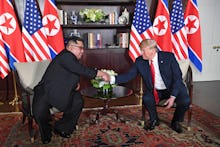 North Korean Foreign Minister Ri Yong Ho said in an address Saturday to the U.N. General Assembly that Pyongyang would not denuclearize "without any trust" in the United States.
"Without any trust in the U.S., there will be no confidence in our national security and, under such circumstances, there is no way we will unilaterally disarm ourselves first," Ri said.
The remarks came as President Donald Trump claims he's making progress toward denuclearizing the Korean peninsula — and as he touts his "very good relationship" with North Korean leader Kim Jong Un ahead of an expected second summit between the two leaders.
Trump said in his own address to the U.N. General Assembly earlier this week that there have been a number of "encouraging measures" toward peace on the peninsula, though he acknowledged that "more work remains to be done" and that he'll leave sanctions in place until Pyongyang denuclearizes.
But North Korea on Saturday slammed those sanctions, saying they were "deepening our mistrust" toward the United States, and suggested it was unwilling to denuclearize out of security concerns.
"The perception that sanctions can bring us on our knees is a pipe dream of the people who are ignorant about us," Ri said.
Kim expressed an openness to denuclearizing during a summit with South Korean President Moon Jae-in on Sept. 19, but indicated North Korea would only do so if the U.S. took undefined "corresponding measures."
Such demands — as well as a history of North Korea breaking past promises to dismantle its nuclear program — have raised questions as to whether the U.S. and North Korea will actually be able to reach a meaningful agreement.
Trump and Kim signed a peace agreement when they met in Singapore in June, but the terms of the accord were vague and lacking substance.
Nevertheless, Trump cheered his summit, claiming that North Korea "no longer" posed a nuclear threat.
Saturday marked just the most recent time North Korea slammed the U.S. over stalled denuclearization talks. On Sept. 18, North Korean state media blamed America's "gangster-like" negotiating posture for the deadlocked diplomacy.
Washington and Pyongyang are currently said to be negotiating a second summit between Trump and Kim.
Trump in recent days has said his warm relationship with Kim gives him confidence that the two sides will make progress toward denuclearization, bragging that the North Korean strongman had recently written him "two of the most beautiful letters."
"It is a historic letter," Trump said in a press conference Wednesday. "It's a beautiful piece of art."