FBI reportedly reaches out to second Kavanaugh accuser in alleged sexual assault investigation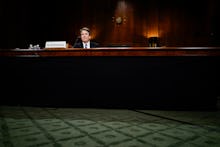 Deborah Ramirez, the second woman who publicly accused Brett Kavanaugh of sexual misconduct, will cooperate with the FBI's new probe into the Supreme Court nominee's assault allegations, her attorney announced Saturday.
"She has agreed to cooperate with their investigation," John Clune, an attorney representing Ramirez, told the Washington Post on Saturday.
The Post reported Saturday that the FBI had reached out to Ramirez as part of its "limited" investigation into sexual abuse allegations against Kavanaugh.
The probe was ordered by President Donald Trump on Friday after two key Republican senators suggested they wouldn't confirm Kavanaugh without an investigation.
Trump said Friday night that the investigation, which will be "limited in scope" and "completed in less than one week," has gotten underway.
The investigation was authorized a day after psychology professor Christine Blasey Ford described Kavanaugh's alleged attack on her to the Senate Judiciary Committee in an emotionally charged hearing on Capitol Hill.
Ford's allegations — that Kavanaugh drunkenly forced himself on her at a party when they were teenagers in the early 1980s — first surfaced in the New Yorker on Sept. 14. Ford told her story to the Washington Post days later.
Since then, two other women have publicly come forward with allegations against the Supreme Court nominee.
Ramirez, a Yale classmate of Kavanaugh's, told the New Yorker on Sept. 23 that the judge "exposed himself at a drunken dormitory party, thrust his penis in her face and caused her to touch it without her consent as she pushed him away" when they were in college.
Julie Swetnick — who is being represented by Michael Avenatti, who has clashed with Trump and his allies as porn actress Stormy Daniels' attorney — alleged this week that she witnessed Kavanaugh behaving inappropriately and "aggressively" around girls at house parties in the 1980s. She also claimed that Kavanaugh and his high school friend, Mark Judge, engaged in efforts to "cause girls to become inebriated and disoriented so they could then be 'gang raped.'"
Kavanaugh has denied all the allegations against him, and in a defiant testimony before the Senate Judiciary Committee on Thursday called accusations of sexual abuse a "political hit" against him by Democrats.
Trump and the Republicans had resisted Democrats' calls for an FBI investigation into the matter, but Sen. Jeff Flake (R-Ariz.) on Friday told his colleagues he'd "only be comfortable" confirming Kavanaugh if the vote before the full Senate was delayed and an investigation conducted.
Sen. Lisa Murkowski (R-Alaska), a fellow swing vote, joined Flake in calling for a probe.
With Flake and Murkowski throwing Kavanaugh's confirmation into question, Republicans on Friday agreed to delay the vote.
In reaching out to Ramirez, the FBI is indicating that it may be considering all the allegations against Kavanaugh in their investigation — not just those leveled by Ford.
Ramirez isn't the only person known to be open to cooperating with investigators in the Kavanaugh probe.
Judge — the friend of Kavanaugh who Ford says was in the room for her assault — has indicated he'll cooperate with the FBI.
Leland Keyser, a friend of Ford who was allegedly downstairs at the party where the assault occurred, will also cooperate with the FBI, her lawyer said.
Keyser has "no recollection" of the incident, her lawyer reiterated to CNN Saturday, but "does not refute" the psychology professor's account and "believes" that the alleged assault happened as Ford described it.