Trump claims FBI has "free rein" over Kavanaugh probe, but 'NYT' report suggests otherwise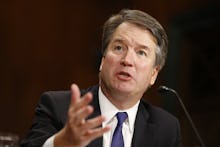 As the FBI launches a brief investigation into the sexual assault allegations against U.S. Supreme Court nominee Brett Kavanaugh, President Donald Trump has contradicted media reports suggesting the investigation will be limited to select witnesses.
In response to an NBC News report that the FBI investigation will not include testimony from Kavanaugh accuser Julie Swetnick, who claims Kavanaugh repeatedly engaged in "highly inappropriate conduct" during high school parties, Trump tweeted Saturday he "actually" wants the FBI "to interview whoever they deem appropriate, at their discretion."
The tweet followed Trump telling reporters Saturday the FBI had "free rein" in the investigation, which was launched Friday following an emotional hearing Thursday with testimony by Kavanaugh and professor Christine Blasey Ford, who accused Kavanaugh of sexually assaulting her in high school. The FBI investigation, which is set to take no longer than one week, was requested by key swing-vote senators, including Sens. Jeff Flake and Lisa Murkowski.
"They're going to do whatever they have to do," Trump said Saturday, as quoted by NBC News. "Whatever it is they do, they'll be doing — things that we never even thought of. And hopefully at the conclusion everything will be fine."
White House adviser Kellyanne Conway backed up Trump's claim Sunday, saying in an interview on CNN's State of the Union that though the investigation will be "limited in scope" and is "not meant to be a fishing expedition," the Trump administration "is not getting involved" by prohibiting investigators from looking into Swetnick's claims.
"The president very much respects the independence of the FBI and feels, as he said last night, they should be looking at anything they think is credible within this limited scope," Conway said.
When asked whether White House counsel Don McGahn would tell the FBI to only interview certain witnesses, Conway responded, "I don't think Don McGahn would do that, but I've not talked with him about it. ... We're not trying to interfere; it's the president who is saying 'go ahead.'"
Conway added Sunday she herself is a victim of sexual assault and believes all victims "should be heard ... in courts of law" and in legal depositions.
The New York Times seemingly contradicted Trump's "free rein" claims Saturday, as it was reported the FBI investigation will in fact be limited to questioning four witnesses about the sexual misconduct claims against Kavanaugh. Those four witnesses do not include former classmates who have offered claims about Kavanaugh's partying and drinking habits that conflict with the nominee's own statements.
The Times noted the White House was determining the scope of the investigation in conjunction with Senate Republicans, and it is possible they could order the FBI to investigate further if those four witness testimonies open up new lines of inquiry.
In an interview Sunday on ABC's This Week, Senate Judiciary Committee member Sen. Lindsey Graham (R-S.C.) said the FBI's investigation would be limited in scope. According to Graham, the investigation will include Deborah Ramirez, who accused Kavanaugh of exposing himself to her in college, and Kavanaugh's friend Mark Judge, whom Ford says was present during her alleged sexual assault episode with Kavanaugh and Swetnick named in her sworn testimony.
Graham suggested Sunday Swetnick would not be interviewed as part of the FBI investigation. He noted, however, Judge would be asked about Swetnick's claims, which include allegations that Judge, Kavanaugh and others made efforts to "cause girls to become inebriated and disoriented so they could then be 'gang raped' ... by a 'train' of numerous boys."