Migrant children are being moved from shelters and foster homes to a Texas tent city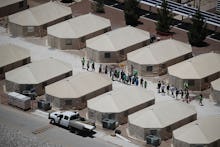 Over 1,000 migrant children currently in U.S. custody are being relocated from private foster care and shelters to a tent shelter in Tornillo, Texas, the New York Times reported Sunday.
Hundreds of children are being moved to the South Texas camp each week, with more than 1,600 children having been moved so far. The Tornillo tent city was initially established in June during the family separation crisis with a capacity of 400 children and is now being expanded to house up to 3,800 children.
The mass relocation comes as the detention of detained migrant children has exploded; the Times reported earlier in September there were 12,800 children in federal shelters — the highest number ever recorded — and reported Sunday over 13,000 children are now in federal custody. Shelters have been operating at 90% of capacity since May, according to the Times, and the average length of time children spend in federal custody has expanded from 34 to 59 days since last year.
"It is common to use influx shelters as done on military bases in the past, and the intent is to use these temporary facilities only as long as needed," U.S. Department of Health and Human Services spokeswoman Evelyn Stauffer told the Times.
"The number of families and unaccompanied alien children apprehended are a symptom of the larger problem, namely a broken immigration system," Stauffer continued. "Their ages and the hazardous journey they take make unaccompanied alien children vulnerable to human trafficking, exploitation and abuse. That is why HHS joins the president in calling on Congress to reform this broken system."
According to the Times, children housed in the Texas tent facility face worse conditions than those in shelters and private foster care, as the facility is only regulated by HHS emergency shelter guidelines rather than the state child welfare authorities that license and monitor immigration shelters. Migrant children in the tent facility sleep 20 to a tent, rather than the two or three to a room in other facilities, have no formal schooling and face limited access to legal representation.
The mass relocations come as the Trump administration faces increased scrutiny over its treatment of migrant children following the family separation crisis that resulted from its zero tolerance immigration policy. The vast majority of children currently in federal custody, however, are "unaccompanied minors" who crossed the border into the U.S. alone; CNN reported Sept. 11 only 400 of the 12,800 children in custody were separated from their families.
Unaccompanied minors are typically held in federal custody until they can be matched with relatives or other sponsors who will house them as their immigration proceedings play out. Those being held in the Texas tent city are largely older children aged 13 to 17 who are likely to be released sooner, the Times noted, though advocates believe there is a possibility children could be housed for months in the tent facility.