This Week in Politics: FBI report on Brett Kavanaugh, Rod Rosenstein meets with Trump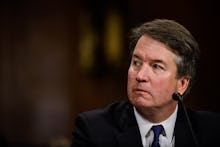 The political chaos is set to continue this week, as the battle over U.S. Supreme Court nominee Brett Kavanaugh's Senate confirmation continues with an FBI investigation.
Following an emotionally charged hearing Thursday with testimony by Kavanaugh and professor Christine Blasey Ford, who accused Kavanaugh of sexually assaulting her in high school, several swing-vote senators called for an investigation into the allegations that is now underway.
This week will also be a contentious time for Robert Mueller's probe into the Trump campaign's Russian ties, as Deputy Attorney General Rod Rosenstein meets with President Donald Trump — potentially with his job on the line.
Here's what to expect from the political world in the week ahead.
Brett Kavanaugh: The FBI began its investigation into the allegations of sexual assault against Kavanaugh Friday night, after swing-vote senators including Sens. Jeff Flake and Lisa Murkowski announced they would oppose Kavanaugh's Senate vote without an investigation.
The investigation should wrap up by Friday, as Trump said the investigation will be "limited in scope and completed in less than one week." Though Trump claimed the FBI will have "free rein" to conduct the investigation as it sees fit, FBI investigators are expected to interview only four witnesses as part of the probe and will reportedly exclude testimony from one of Kavanaugh's three accusers, Julie Swetnick.
Depending on the results of the investigation, a Senate cloture vote to move Kavanaugh's nomination could come as soon as Friday. Though Republicans initially hoped Kavanaugh would be on the bench in time for the new Supreme Court term, the high court will begin its new term Monday with only eight justices on the bench.
Rod Rosenstein: After an initial Thursday meeting was postponed due to the Kavanaugh hearing, Rosenstein is set to meet with Trump this week to discuss a New York Times report alleging Rosenstein discussed wearing a wire around Trump and brought up the possibility of invoking the 25th Amendment. Rosenstein denied the report, saying he "never pursued or authorized recording the president and any suggestion that I have ever advocated for the removal of the president is absolutely false."
The fate of Rosenstein's employment has hung in the balance since the report was published, which could affect the fate of the Mueller investigation, which Rosenstein currently oversees. Rosenstein is also slated to discuss the report this week with House Republicans, who previously filed articles of impeachment against Rosenstein even before the Times report was published.
Congress: Lawmakers will have busy weeks beyond Kavanaugh and Rosenstein, with upcoming hearings set to discuss Russia's role in Syria, global threats to religious liberty, reducing health care costs and protecting amateur athletes from sexual abuse. Senate committees will also consider the nomination of several Trump appointees to high positions in the administration, including Social Security commissioner nominee Andrew M. Saul and Steven Dillingham as director of the U.S. Census.
The House will consider legislation this week on such topics as border security, small businesses and veterans benefits. The Senate is set to pass bipartisan legislation aimed at tackling the opioid crisis after the House passed consensus legislation Friday.
Melania Trump: First lady Melania Trump will travel around Africa this week on her first solo international trip as first lady. The trip will be part of Trump's "Be Best" initiative and will see the first lady highlight such topics as health care for women and children; education and anti-poverty programming; and conservation as she makes stops in Ghana, Malawi, Kenya and Egypt.
While Melania Trump's trip has been planned in coordination with the U.S. Agency for International Development and will showcase success stories of U.S. foreign aid, the trip comes less than a week after the first lady's husband pushed an opposing message at the United Nations. During his address at the U.N.'s General Assembly, the president said the U.S. was "taking a hard look at U.S. foreign assistance" and would only give aid to "our friends." President Trump previously proposed a 33% funding cut to USAID to Congress, which lawmakers rejected.
Trump's agenda: As his wife travels around Africa, Trump will hit the campaign trail with political rallies in Johnson City, Tennessee; Southaven, Mississippi; and Topeka, Kansas, Monday, Tuesday and Saturday, respectively. The president will also speak Tuesday at the Electrical Contractors Association Convention in Philadelphia and award the Medal of Honor Monday to U.S. Army Staff Sergeant Ronald J. Shurer II.