Hype Daily: Kanye West goes full MAGA and more entertainment news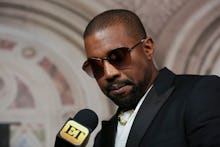 Welcome to Hype Daily, Mic's morning entertainment roundup. Here's everything you need to catch up on in the entertainment world and what to look forward to today. Want to receive this as a daily email in your inbox? Subscribe here.
Good morning readers and happy Monday! Want to see what you missed this weekend? It turns out a lot of stuff happened in the wild world of entertainment news. Let's get right into it.
Kanye West said we should abolish the 13th Amendment
After a bizarre appearance on the season premiere of Saturday Night Live that ended in an off-air rant praising President Donald Trump, Kanye West tweeted out a photo of himself wearing a "Make America Great Again" hat along with the message, "this represents good and America becoming whole again ... we will provide jobs for all who are free from prisons as we abolish the 13th amendment."
In case you don't remember, the 13th Amendment was the one that ended slavery, so a lot of people were pretty confused about why anyone would want to "abolish" it. Actor Chris Evans responded to West's tweet by saying, "There's nothing more maddening than debating someone who doesn't know history, doesn't read books, and frames their myopia as virtue. The level of unapologetic conjecture I've encountered lately isn't just frustrating, it's retrogressive, unprecedented and absolutely terrifying."
In a series of later tweets, West seemed to imply he was talking about the provision mentioning prisoners in the 13th Amendment, so maybe he actually meant we should abolish prisons, but that really wasn't clear from the get-go.
SNL opened with a sketch about the Kavanaugh hearings
Speaking of SNL, the long-running weekly show kicked off its new season on Saturday night with an cold open mocking Supreme Court Nominee Brett Kavanaugh's behavior at his hearing last week. Matt Damon guest-starred as a belligerent Kavanaugh, who screamed and yelled then chugged a "can of water."
Rachel Dratch also appeared as an unamused Senator Amy Klobuchar and cast member Kate McKinnon played a very outraged, very Southern Senator Lindsey Graham. Watch the whole thing here.
Lindsay Lohan got in a very strange altercation on Friday
From Lindsey Graham to Lindsay Lohan — here's an extremely bizarre story to start your morning off right. Lohan reportedly began livestreaming a video on her Instagram account Friday that showed her approaching a family on the street, identifying them as Syrian refugees and trying to get one of the children to leave with her.
According to People, the live video showed the family walking away from Lohan while she accused them of human trafficking. And then at one point, the camera reportedly shakes and Lohan says the woman in the family slapped her. Oh, and as if that all wasn't enough, the whole time Lohan was speaking in a thick accent. Just a reminder, she's from New York. Maybe this is just a strange, viral marketing campaign for Lohan's new reality TV show ... hopefully.
Here's your weekend box office roundup
Tiffany Haddish and Kevin Hart's new comedy Night School dominated the weekend box office, pulling in $28 million domestically in its opening weekend, the Associated Press reported Monday. Night School is the first straight-up comedy (as in, not mixed with another genre) to take the No. 1 spot at the box office since 2016, according to the AP.
The animated movie Smallfoot took the second spot, earning $23 million domestically, and the family film The House With a Clock in its Walls, last weekend's No. 1, took the third slot.
Put this on your radar: Insecure ended its third season Sunday night
If you're not up to date on this season of Issa Rae's HBO comedy Insecure, it's time to get caught up. The series ended its strong third season with a finale Sunday night, which means last night's episode is your last chance to dip into Issa's L.A. life unti four begins. And if you've never seen a single episode of Insecure, well, what are you doing with your life?