Today in Trump's America: Questions arise after reports the GOP is limiting FBI's Kavanaugh probe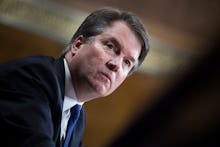 Welcome to Mic's daily read on Donald Trump's America. Want to receive this as a daily email in your inbox? Subscribe here.
Good morning from Emily Singer at Mic.
Here's what's happening in Trump's America:
• President Donald Trump's day begins at 11:30 a.m., when he'll receive his daily intelligence briefing.
About the weekend: White House puts limits on FBI investigation into Kavanaugh
Republicans relented last week to allowing the FBI to investigate sexual assault allegations against Supreme Court nominee Brett Kavanaugh after two GOP senators said they would not vote to confirm him to the court unless the investigation took place.
However, NBC News and the New York Times reported the investigation will be limited to four people who may have witnessed Kavanaugh's alleged sexual misconduct and will not include former classmates who say they witnessed Kavanaugh's excessive drinking and have memories that contradict his own explanation of his conduct.
Trump denied there are limits on the investigation and tweeted the FBI should interview "whoever they deem appropriate, at their discretion."
Sen. Dianne Feinstein (D-Calif.) was not placated by Trump's tweet. She tweeted, "The White House and the FBI should release details on the scope of the Kavanaugh background investigation and keep Congress informed on any changes."
"This needs to be a real investigation and we must get all the facts," Feinstein tweeted."
The FBI only has until Friday to complete its investigation, given that Republicans demanded the investigation take no more than one week.
It's unclear what the investigation will turn up, if anything at all, and how that will impact how Republican senators choose to vote on Kavanaugh's nomination.
Rachel Mitchell, the Republican prosecutor the GOP brought in question Kavanaugh and Palo Alto University professor Christine Blasey Ford said in a memo to Republican senators that if she were a prosecutor on this case she would not file charges, as there is not enough evidence.
"A 'he said, she said' case is incredibly difficult to prove. But this case is even weaker than that," Mitchell wrote in the memo, according to the Washington Post. "Dr. Ford identified other witnesses to the event, and those witnesses either refuted her allegations or failed to corroborate them."
Today in Trump's America: White House to unveil new trade agreement with Mexico, Canada
Trump announced Monday morning the U.S. reached a new trade agreement with Mexico and Canada, which amends the trilateral agreement previously known as the North American Free Trade Agreement — a top Trump promise from the 2016 presidential campaign.
The deal will require Canada to lower barriers to its dairy market and force the U.S. to back down from its threat to impose tariffs on automobile exports, according to Politico. The deal now heads to Congress, which will vote on the trade agreement in 2019.
Trump tweeted Monday morning the agreement, which he is dubbing the United States-Mexico-Canada Agreement "is a great deal for all three countries."
Trump said the deal "solves the many deficiencies and mistakes in NAFTA, greatly opens markets to our Farmers and Manufacturers, reduces Trade Barriers to the U.S. and will bring all three Great Nations together in competition with the rest of the world. The USMCA is a historic transaction!"
Capitol Hill happenings: Beware the October surprise
It's officially October of an election year, when November's outcome starts to come into focus, but it could be roiled by an "October surprise" — a bit of news that could fundamentally change the course of the election.
It's possible the drama around the Kavanaugh confirmation could be that October surprise, ginning up Democratic enthusiasm and causing the floor to drop out from beneath Republicans.
But it's also possible the surprise is something else entirely.
For now, Democrats are the heavy favorites to win control of the House. The generic ballot — which asks voters which party they'll vote for in the midterm elections — currently favors Democrats by a 7.4-point margin, according to the RealClearPolitics average. At this same point in the 2010 cycle Republicans had a 3.5-point lead in the generic ballot — and went on to ride a tsunami into power.
A good way to know where races stand (aside from polling) is to follow the money.
If outside groups, such as the National Republican Congressional Committee — a committee run by House Republicans and tasked with electing Republicans to the House — begin shifting its money away from a race, that's a sign it no longer views that contest as winnable and thinks its cash is best spent elsewhere. If the NRCC starts spending money in GOP-held seats that have yet to make it onto political prognosticators' radars, that's a good sign that a political wave is real, and bigger than projected.
I'll be writing a full story on this phenomenon that should publish later today.
And the rest...
Migrant children: The New York Times reported migrant children have been moved in the dead of night to a tent city in Texas, where there is no school and legal services are limited.
Net neutrality: The Department of Justice is suing California for passing a law to restore the net-neutrality rules that were tossed out by the Federal Communications Commission last year.
"Under the Constitution, states do not regulate interstate commerce — the federal government does," Attorney General Jeff Sessions said in a statement announcing the lawsuit. "Once again the California legislature has enacted an extreme and illegal state law attempting to frustrate federal policy."