Want to know who is likely to win in the race for the House? Follow the money.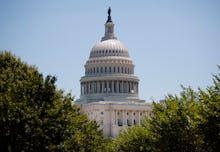 How can you tell whether a candidate is winning or losing a race in the midterm elections? Follow the ad spending, of course.
As the 2018 election season now enters the home stretch, a look at where political parties and the super PACs aligned with them are dropping the cash on the television airwaves is a key indicator of how that party views its chances in November.
Republicans looking to hold their House majority will do what's called "triage" among political analysts — cutting off spending in GOP-held seats it views as unwinnable and shifting that cash to places they feel it's better spent.
Democrats, looking to win a majority, will put money in GOP-held seats they now view as competitive.
"The spending is a great indicator of where both parties think the real battleground lies," Nathan Gonzales, a nonpartisan political handicapper with Inside Elections, said in an interview. "It's not just about the rhetoric and talking about where they're going to win and where they're going to hold — it's about the money."
In the race for the House, there are a few key groups to watch.
On the Democratic side, the movements of the Democratic Congressional Campaign Committee and House Majority PAC should be watched closely. The DCCC is a House committee that seeks to get Democrats elected to Congress, while House Majority PAC is a Democratic super PAC with the same mission.
On the Republican side, keep your eye on the National Republican Congressional Committee and the Congressional Leadership Fund. The NRCC is a House Republican committee that seeks to get Republicans elected to Congress, while CLF is a super PAC tied to House Speaker Paul Ryan (R-Wis.)
Over the past week, both groups have been making moves that indicate Democrats are in a strong position to net the 23 seats needed to capture the majority. For example, the DCCC has been making ad reservations in districts that Inside Elections currently rates as "tilt Republican" or "lean Republican."
They include West Virginia's 3rd District, which President Donald Trump carried by a whopping 49 points in 2016. Democrats have a strong recruit in military veteran Richard Ojeda, who they believe has a chance to win this open-seat race.
The DCCC also placed an ad buy in Raleigh, North Carolina, which covers the state's 2nd District, which Trump carried by a 12-point margin in 2016. That seat is currently held by GOP Rep. George Holding. He is facing Linda Coleman, a former state representative who was the 2016 Democratic nominee for lieutenant governor. Inside Elections says the race is trending toward Coleman, but is now rating it a "tilt Republican" contest.
Meanwhile, the NRCC and CLF have made a number of moves that suggest they feel pessimistic about their position in a handful of important House races across the country.
For example the NRCC has canceled $1.2 million in ad spending that was meant for GOP Rep. Kevin Yoder in Kansas' 3rd District. Hillary Clinton carried the district by a slim 1-point margin in 2016, and polls show Yoder trailing big time to his Democratic opponent, Sharice Davids. Inside Elections now rates the race a "tilt Democratic" contest.
CLF, which has been spending mightily to try to save the GOP House majority, canceled ads in two Republican-held seats: Colorado's 6th District and Michigan's 8th District, according to Politico's Alex Isenstadt.
Coffman represents Colorado's 6th District, which Clinton carried by a 9-point margin in 2016. While Coffman has outrun his district's Democratic lean, Inside Elections now says the race tilts Democratic.
The real stunner though is the cancellation in Michigan's 8th District, held by GOP Rep. Mike Bishop. Trump carried that district by a 7-point margin in 2016, but Democratic nominee and former acting Assistant Secretary of Defense for International Security Affairs Elissa Slotkin is helping make the race competitive — running on a health care message like a number of Democratic candidates this cycle. Inside Elections has moved the race to a toss-up.
These are the kind of seats Republicans need to win if they have any shot of holding their House majority. And if the GOP views this race as unwinnable a month before the election, then their party's fortunes look grim.
Up until the election, political groups will continue to make these spending decisions. As they do so, a clearer picture of likely results will emerge.
As it stands, with 36 days until the midterms, Inside Elections rates 20 GOP-held seats as either tilt, lean or likely Democratic races. More than two dozen other Republican-held districts are rated as toss-ups or tilt Republican contests, giving Democrats a number of different ways to net the 23 seats needed for a majority.
Jesse Ferguson, who ran the ad spending arm of the DCCC back in the 2014 cycle when Republicans were riding a wave, says this time around he expects to see Republicans shift spending from more races as election day draws near.
"Even after they hit the iceberg, the crew of the Titanic thought they could stop sinking by just closing a few bulkhead doors. But the hole was bigger than the doors," Ferguson said. "Throughout October, Republicans are going to keeping shutting doors as if that will stop the backlash against Trump's control of Congress. Like the Titanic, the only way for them to avoid sinking is not to run into the Trump iceberg in the first place."
Ultimately, the real tell of the size of the wave will come when these party committees and super PACs begin spending in seats that aren't rated competitive — a sign that GOP incumbents once viewed as safe are starting to look vulnerable in internal party polling.
"In the final, critical weeks of the election, it becomes less about which candidates or incumbents you like and where are the best opportunities to win a seat or the most winnable races," Gonzales said. "When a party is trying to defend the majority, they have to face the reality that not all races are winnable and their money might be better spent elsewhere on the map."