Kavanaugh classmate tells FBI the judge was often "belligerent and aggressive" while drunk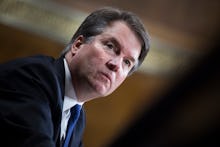 After embattled Supreme Court nominee Brett Kavanaugh told senators under oath on Thursday that allegations of his unhealthy drinking habits were unfounded, one of his former Yale University classmates is now reportedly preparing to tell the FBI that in his experience that was not the case.
In a statement provided to the Washington Post on Sunday, Charles Ludington, an associate professor at North Carolina State University who was a classmate of Kavanaugh's at Yale, wrote that the judge frequently drank to excess in college and was "often belligerent and aggressive," while intoxicated.
Ludington describes one instance in particular when Kavanaugh allegedly initiated a violent altercation by throwing a drink, leading to the arrest of a mutual friend.
"On one of the last occasions I purposely socialized with Brett, I witnessed him respond to a semi-hostile remark, not by defusing the situation, but by throwing his beer in the man's face and starting a fight that ended with one of our mutual friends in jail," Ludington alleges in the statement.
Kavanaugh appeared before the Senate Judiciary Committee Thursday afternoon to deny allegations by Dr. Christine Blasey Ford that he had once tried to sexually assault her at a small get together in the summer of 1982. During the rounds of questioning by senators and a hired prosecutor, Rachel Mitchell, Kavanaugh was dogged in his attempts to dismantle the image of him as an aggressive, frequent drinker who would often consume alcohol to the point of blacking out.
When pressed by Sen. Amy Klobuchar (D - Minn.) on whether or not he had ever had a night where he "drank so much that [he] couldn't remember what happened," the Kavanaugh responded, "I think you've probably had beers, Senator…"
Klobuchar then repeated the question, to which the judge responded, "You're asking about, you know, blackout. I don't know. Have you?"
Although Ludington acknowledged in his statement to the Washington Post that although he does "not believe heavy drinking or even loutish behavior of an 18 or even 21-year-old should condemn a person for the rest of his life," his belief that Kavanaugh had fudged the details of his college experience in front of a Senate committee seemed to be the true sticking point.
"... if he lied about his past actions on national television, and more especially while speaking under oath in front of the United States Senate, I believe those lies should have consequences," Ludington wrote.
The allegations are far from the first to accuse the judge of being a hard partier prone to aggressive behavior when drunk. In response to a statement from Kavanaugh in which he insisted that he was focused on sports and academics in school and never drank to excess, Liz Swisher, another former classmate at Yale who currently works as a doctor in Seattle, said that his statements were "not credible."
"Brett was a sloppy drunk, and I know because I drank with him," Swisher told the Post. "I watched him drink more than a lot of people. He'd end up slurring his words, stumbling... There's no medical way I can say that he was blacked out. ... But it's not credible for him to say that he has had no memory lapses in the nights that he drank to excess."
Another former classmate, Lynne Brookes, accused Kavanaugh of trying to paint himself as "some kind of choir boy."
"You can't lie your way onto the Supreme Court, and with that statement out, he's gone too far," Brookes added. "It's about the integrity of that institution."