The trailer for Michaela Coel's new musical rom-com 'Been So Long' is here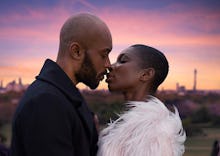 Netflix is quickly solidifying itself as a provider of sweet, feel-good rom-coms (please see To All the Boys I've Loved Before and Set It Up) and it's adding a new original film to its rom-com repertoire at the end of October.
Been So Long, a new rom-com musical starring Michaela Coel, premieres on the streaming service on Oct. 26. The official trailer dropped on Monday.
According to the Netflix description, Been So Long is a "neon-soaked, modern-day romance set on the streets of London's musical hotbed of Camden. We follow Simone (Coel), a dedicated single mother who, on a rare night on the town is charmed by a handsome yet troubled stranger, Raymond (Arinzé Kene), igniting old and new feelings."
Coel is perhaps best known for the quirky comedy series Chewing Gum, which she created, wrote and starred in. Chewing Gum, which premiered in the U.K. in 2015 and on Netflix in the U.S. in 2016, followed a Coel as a young woman from a religious family who is eager to lose her virginity (among her other exploits).
Like Chewing Gum, Coel's new film Been So Long, takes place in London — but, unlike Chewing Gum, Coel isn't at the helm of this project. Been So Long is directed by Tinge Krishnan and was adapted from an original play by Che Walker and Arthur Darvill, Variety reported back in 2017.
The musical's soundtrack, composed by Christopher Nicholas Bangs, reportedly pays homage to London's diverse music scene, and will include everything from "Caribbean Soca and soul jazz" to "punk and acid house," according to Variety.
Coel spoke to the Fader back in 2017 about some of the challenges presented by her starring role in Been So Long. "I'm not really a children person," she told the outlet. "But I'm learning to bond with them. And I haven't done any singing for a while — I'm quite shy about that."