Questions on Kavanaugh accusations push Trump news conference on trade off the rails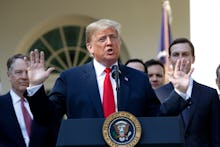 A news conference Monday afternoon to announce a revamped trade agreement between the United States, Canada and Mexico quickly veered off course, after reporters began asking President Donald Trump about the FBI investigation into sexual assault allegations against Supreme Court nominee Brett Kavanaugh.
Trump first refused to answer questions about the Kavanaugh investigation, insulting ABC News' Cecilia Vega, who was the first to ask about the FBI probe.
"She's shocked that I picked her," Trump said when he called on Vega.
"I'm not, thank you Mr. President," Vega responded, seemingly a response to his comment about her being shocked.
"That's OK," Trump replied. "I know you're not thinking. You never do."
After first refusing to answer questions about the FBI probe into the allegations against Kavanaugh, Trump then changed course to answer questions on the investigation. He defended Kavanaugh, lamenting "What he's gone through" since the allegations surfaced.
"What his beautiful children are going through is not describable, it's not fair," Trump said.
The president denied that his White House is putting limits on what the FBI can look into regarding the three women who have come forward to accuse Kavanaugh of sexual assault, and instead said he's just following the wants of Senate Republicans.
"It is up to me, but I'm instructing them as per what the Senate wants, the Senate is making the decision," Trump said of the orders given to the FBI on Kavanaugh.
Asked about reports that the third Kavanaugh accuser, Julie Swetnick, is not being interviewed by the FBI, Trump said it "wouldn't bother me at all" if she was interviewed. He added that, "I've heard that the third one has very little credibility," referring to Swetnick.
As the questions about Kavanaugh went on, Trump got increasingly more frustrated, lashing out at Senate Democrats for how he says they treated Kavanaugh.
"I happen to know some United States senators, one who is on the other side, who is pretty aggressive. I've seen that person in very bad situations," Trump said.
Trump refused to name that senator, joking that he was going to "save it for a book."
He went on to refuse to say whether he thought Kavanaugh's partisan outbursts during the hearing with the first woman to accuse him of sexual assault, Palo Alto University professor Christine Blasey Ford, were disqualifying. He ultimately said he is sticking by Kavanaugh.
"I don't want to talk about Plan B," Trump said, before wrapping up the news conference.