A history of Trump's long, complicated relationship with Diet Coke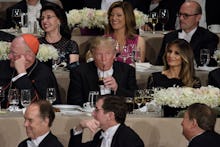 President Donald Trump has endorsed a number of questionable things throughout his career — whether it's pizza, McDonald's or professional wrestling. But there seems to be no greater love of Trump's than Diet Coke, the zero-calorie drink that's won the longstanding affection of the president. After boasting of his presidential accomplishments at a recent U.N, General Assembly, Trump even toasted world leaders with a wine glass filled with his favorite bubbly soda.
Though Trump has had occasional concerns about the pop — he once tweeted, "I have never seen a thin person drinking Diet Coke" — the soda has remained a staple in his life. It even appears to be a crutch when life takes its turns: From his second divorce to his presidency, Diet Coke has been there for Trump. Mic has taken a long look at the president and his love of Diet Coke — and how the soda played a role in pivotal moments throughout his life and career.
1997: Post-divorce Trump drinks a reported gallon of Diet Coke every day
The year is 1997. Trump is divorcing his second wife, Marla Maples, after nearly 3 1/2 years of marriage. Trump is reportedly "working his way through his daily gallon of Diet Coke and trying out a few diversionary measures," in the wake of his split with Maples, according to the New Yorker. Trump has a prenuptial agreement in place but owes Maples at least $1 million.
2004 to 2007: Trump demands soda during the filming of The Apprentice
An editor and coproducer of The Apprentice told CineMontage, a website and journal of the Motion Picture Editors Guild, that Trump repeatedly asks a producer for Diet Coke while on set. "And she would reply, 'But Donald, I need to be here to help record this dialogue.' And Trump would reply, 'No you don't; go get me a Diet Coke.'"
2012: Trump tweets "I have never seen a thin person drinking Diet Coke"
In 2012, despite his love for the drink, Trump disparages Diet Coke on Twitter, saying he'd never seen a thin person drinking the soda and suggests it may cause weight gain. Research suggests diet drinks are, in fact, associated with weight gain; however, studies and evidence following their connection are insufficient, the Washington Post reported.
2013: Trump still loves diet soda
In a sit-down interview with the Financial Times at the Trump Grill, Trump orders a Diet Coke.
2016: Diet Coke remains Trump's go-to drink in leaked tapes and elsewhere
In 2016, Trump is spotted with Diet Coke throughout his race for the presidency. In February, he is seen with the soda on a plane to New Hampshire for a rally. In May, Trump posts an Instagram of his celebratory meal after securing the Republican nomination for president, and it appears to be a McDonald's Big Mac, french fries, a bottle of Diet Coke.
In September of that year, a conversation is recorded between Trump and his former attorney, Michael Cohen, discussing payment for former Playboy Playmate Karen McDougal's discretion. Trump can be heard interrupting Cohen to make a request: "Get me a Coke, please."
In October, Trump is seen drinking what looks like a Diet Coke at a charity fundraiser and is seated a chair apart from Hillary Clinton, his opponent in the upcoming presidential election.
In November, Trump meets with the publishers of the New York Times, where among other things, he discussed being "open" to the Paris climate agreement — a global effort to help combat climate change — and is spotted with both a regular Coke and Diet Coke in front of him.
2017: The world learns of Trump's Diet Coke button in the Oval Office
It's been over 600 days since Trump was sworn in as president. Trump is spotted with a bottle of Diet Coke by his side at the G20 summit, devoted to climate change. He is seated next to British Prime Minister Theresa May in Germany, where they discuss the U.S. withdrawing from the Paris agreement.
In December, the New York Times reported Trump regularly drinks a dozen Diet Cokes daily, delivered via the click of a button in the Oval Office.
2018: Trump has "terrible health habits"
In August, Omarosa Manigault Newman, a former White House adviser, confirms in her book Trump drinks at least eight cans of Diet Coke a day. "He always has one in his hand, as far back as I've known him," she wrote. She also called him "ill" and blamed his illness on his "terrible health habits."
In September, Trump toasts to world leaders during a U,N. General Assembly with Diet Coke in a wine glass.
Why Trump's love for Diet Coke matters
Diet Coke has had a rough few years. The soda has experienced a massive decline in sales, in part because of popular alternatives like Coke Zero Sugar and changing consumer tastes. In 2016, Fortune reported soda consumption in the United States had fallen to a 30-year low. Plus, recent Trump tariffs on aluminum and steel mean many Coca-Cola products may be more expensive.
So how exactly should Coca-Cola handle its endorsement by Trump? (Mic has reached out for comment from Coca-Cola.) According to marketing consultant Eric Smallwood of Apex Marketing Group, having no response is sometimes the best response. "I think it's very important for a brand in this political scenario not to alienate half your audience and become [involved in] partisan marketing," Smallwood said by phone. "You want as much selling power as you can."