Mic Daily: Trump goes off the rails at a news conference — and other news of the day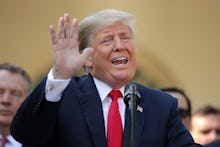 Welcome to Mic Daily: Mic's newsletter that cuts through the noise and lands in your inbox every weekday. We carefully curate each edition to send you a cross section of our most vital stories of the day.
Want more entertainment news in your inbox? Sign up for Hype Daily — Mic's morning entertainment briefing. It's got all the news you need to start your day.
After embattled Supreme Court nominee Brett Kavanaugh told senators under oath on Thursday that allegations of his unhealthy drinking habits were unfounded, one of his former Yale University classmates is now reportedly preparing to tell the FBI that, in his experience, that was not the case.
In a statement provided to the Washington Post Sunday, Charles Ludington, an associate professor at North Carolina State University who was a classmate of Kavanaugh's at Yale, wrote that the judge frequently drank to excess in college and was "often belligerent and aggressive," while intoxicated.
"I love black women! You don't love black women? What's wrong with you?" demonstrators for the March for Black Women chanted as they walked from Manhattan to Brooklyn via the Brooklyn Bridge in New York City on Sunday.
Perhaps the biggest show across all of Fashion Month — which includes shows in tentpole cities New York City, London, Milan and Paris — was the highly anticipated debut of creative director Hedi Slimane at Celine.
In Slimane's debut at Paris Fashion Week, he didn't seem particularly interested in answering the call for more diversity on runways that's permeated fashion industry conversations. Of the 96 models to walk the show, only nine were models of color; the show was 91% white.
This number is particularly glaring when you look at it in comparison to New York Fashion Week, which had its most diverse year ever.
A news conference Monday afternoon to announce a revamped trade agreement between the United States, Canada and Mexico quickly veered off course, after reporters began asking President Donald Trump about the FBI investigation into sexual assault allegations against Supreme Court nominee Brett Kavanaugh.
Trump first refused to answer questions about the Kavanaugh investigation, insulting ABC News' Cecilia Vega, who was the first to ask about the FBI probe.
California officially passed the toughest net neutrality law in the country Sunday. Then, within hours, the Trump administration sued the state over the legislation.
The U.S. Department of Justice filed a lawsuit Sunday against the California Internet Consumer Protection and Net Neutrality Act of 2018, or SB 822, which California Gov. Jerry Brown signed into law earlier in the day.