Today in Trump's America: Mitch McConnell schedules vote on SCOTUS nominee Brett Kavanaugh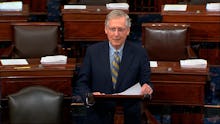 Welcome to Mic's daily read on Donald Trump's America. Want to receive this as a daily email in your inbox? Subscribe here.
Good morning from Emily Singer at Mic.
Here's what's happening in Trump's America:
• President Donald Trump's day doesn't begin until after noon, when he departs the White House en route to Philadelphia, where he's set to deliver remarks to the National Electrical Contractors Association Convention at 2:30 p.m.
About last night: McConnell schedules confirmation vote
Senate Majority Leader Mitch McConnell announced Monday the Senate will vote on Brett Kavanaugh's nomination to the Supreme Court this week, despite the fact the FBI has not finished its probe into the multiple allegations of sexual assault the judge faces.
McConnell made the announcement from the Senate floor, bashing Democrats for "obstructing" and "delaying" Kavanaugh's confirmation.
"The time for endless delay and obstruction has come to a close," McConnell said. "We'll be voting this week."
McConnell's speech came after Trump removed any limits the FBI had on investigating the sexual assault allegations against Kavanaugh. The White House and Senate Republicans faced criticism for limiting the FBI's probe, including from Sen. Jeff Flake (R-Ariz.) — whose reluctance to vote for Kavanaugh without an FBI investigation is one of the key reasons the probe of the allegations is happening in the first place.
"We certainly want the FBI to do a real investigation, and we are working to make sure that that happens," Flake said Monday in Boston at the Forbes Under 30 Summit. "I've had discussions, many yesterday with my colleagues, and with the White House Counsel's Office. My staff is following up as well."
While McConnell wants to move to end debate on Kavanaugh's nomination, Politico's Burgess Everett reports three GOP senators — Sens. Flake, Lisa Murkowski of Alaska and Susan Collins of Maine — want the FBI probe to wrap before they cast their votes. That could throw a wrench in McConnell's plans to begin voting before the FBI probe is complete.
Today in Trump's America: Will any new stories on Kavanaugh drop?
One of the biggest risks Republicans took when they reversed course to allow the FBI to investigate the Kavanaugh allegations was that more would surface.
That's exactly what happened Monday, when two reports about Kavanaugh's heavy drinking in college as well as questions around the timing of when he knew the allegations of sexual assault surfaced.
The New York Times reported Kavanaugh was questioned by police in 1985 after he was accused of instigating a bar fight when he was a junior at Yale. Kavanaugh was accused of throwing ice at another man, but he was not arrested.
In a separate report, NBC News obtained text messages that suggest Kavanaugh knew about forthcoming accusations from Deborah Ramirez — who accused him of sexual assault when they were both students at Yale — before Thursday's hearing with Palo Alto University professor Christine Blasey Ford, Kavanaugh's first accuser.
According to NBC News' report, two of Kavanaugh's friends from Yale — Kerry Berchem and Karen Yarasavage — have text messages that show Kavanaugh was personally discussing Ramirez's allegations with former classmates before the article published.
In an interview with GOP staff on the Senate Judiciary Committee Sept. 25, Kavanaugh claimed it was Ramirez who was "calling around to classmates trying to see if they remember" the assault.
NBC News reported Berchem said Kavanaugh "may have initiated an anticipatory narrative" in July to "conceal or discredit" Ramirez — even though he said in Thursday's hearing that he first heard of Ramirez's allegations in the New Yorker piece that first published her accusations.
And the rest...
Midterm predictions: I'm going to shamelessly promote my piece from Monday that explains how a look at where both parties are airing ads in the midterm elections can shed light on the race for control of the House.
Minimum wage: Amazon announced Tuesday it raised its minimum wage for employees to $15 an hour, a key objective of progressives such as Sen. Bernie Sanders (I-Vt.).