Miss Fame talks developing her new cruelty-free makeup line and drag's impact on fashion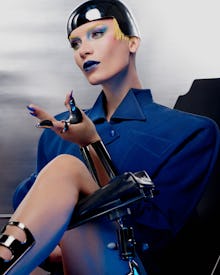 Everybody wants a little bit of fame. Miss Fame that is. And now they can have her with the launch of her new makeup line, aptly titled Miss Fame Beauty.
Fame's penchant for makeup follows a trajectory that has straddled fashion, beauty and drag. As a model, Fame is signed to Wilhelmina and IMG Models Paris and has the distinction of being the first drag artist to appear in editorial in Vogue Germany. As a makeup artist, she's collaborated with brands including Prada, Versace and Tommy Hilfiger and is a former spokesmodel for L'Oréal Paris.
"Prior to being on Drag Race, even before the show, Fame was a prime example of how to build, and establish a coherently realized brand," BibleGirl said in an interview. "What she is doing right now within the beauty industry is revolutionary. With a queen being at the helm of what is the beginning of a cosmetics giant, the writing is on the wall for how incredible of a legacy the brand will have."
Miss Fame Beauty offers five creamy shades of LipVoyeur Crème Lipstick that retail for $19. They include "Flash of Flesh," a nude with neutral undertones, "How's Your Head?" a warm, peachy pink, "Fame Whore," a smile-brightening fuchsia, "Dirty Couture," a deep sapphire blue and "The Other Woman," a deep, cool red with neutral undertones.
Below we caught up with Fame at New York City's DragCon, to chat about what to expect from her beauty line as well as the ongoing crossover (or blurring of the lines, depending on how you look at it) between drag and fashion.
Mic: Twenty-five drag queens appeared at New York Fashion Week, bolstered largely by Opening Ceremony's large drag queen-infused runway on which you appeared. Do you feel like fashion is finally recognizing the importance that drag plays in informing the runway?
Miss Fame: Everything is evolving now, and we are in a pop culture phenomenon where drag is of the moment. What I hope continues happening is that as the trend starts to dissolve, we are still having positions in fashion and opportunities secured, and that we are getting paid for the work that we are getting to do because it's a lot of work. We are usually our own team, styling and makeup and wardrobe. Yes, we have people assisting us, but we really need to assist our queer talent. When and if — hopefully not — this quiets, I want to ensure that we still have positions secured in the world of fashion.
As you see more and more drag queens sprouting up with high fashion sensibilities, what's that like for you, as someone who really helped bring that forward into the mainstream?
It's two-sided for me because I'm aware that as dedicated as I am to the craft of Miss Fame, there's going to be times where somebody just hires somebody because they are a drag queen. So it doesn't necessarily matter about the quality of the work I put forth and the dedication to detail which is a part of my branding. But maybe some brands are interested in something a little more, uh, obvious. You know, a little bit more of what drag is known for. So for me it means that the doors are open. I just hope I can continue to facilitate work that fits my identity and that's aligned with the kind of persona that I represent.
Speaking of which, you are known for this highly refined, hyper-stylized look that you never seem to drop the ball on. What's that like, trying to maintain such a high level of presentation at all times, especially in a culture that scrutinizes often in an effort to find flaw?
It's exhausting being on top of my own game and making sure that nothing slips. This whole DragCon was a slip on a slip on a slip. Styling was a mess and I had to pull in the reins and direct that show. I could be a little bit more gracious and not say much more about that... but I was stressed in places that I probably shouldn't be, especially when building a team to help support my vision. But this is trial and error and so I'm still trying to figure out what works for me. My bar is set so high. I always say that I want the best all the time but sometimes the best are in Paris during Fashion Week and DragCon is here, so I have to work with new people and try to build new lines in order to see what is possible.
What I ended up having to do this fashion week on the drop was contact Marc Jacobs' people, contact Monse, and turn out high-level looks that came the day of. So that is because a fashion emergency was real and I'm not willing to surrender my quality. I'd rather show up a little bit late and look perfect.
Your new makeup line, which I've had the privilege to try out, is not just a celebrity makeup line. How did you go about ensuring that this makeup line would be, as you spoke of earlier, at the Fame level of brand that you, and by proxy your fans, have come to expect?
I'm 100% invested in the project. I've been doing it from the gate, a whole year in the same facility talking about it, developing the packaging, the lid, the emblem. I had a little help from Wilhelmina in developing the Miss Fame brand logo, but everything else, from the silver that was inspired by Joan Crawford from Oscars night, is inspired by old Hollywood, true glamour and sophisticated detailing. I'm surrounded by incredibly high-fashion people that have helped me mold my ability and my image, but I knew what I wanted.
It was something that was going to be a beautiful payoff, a lot of pigmentation, a range that could be worn from a commercial standpoint to also an artistic standpoint — that's why there's glitter in there and that's why there's blue in there. I also wanted it to be nurturing for the lips with a smoothing cream formula which is about taking care of the skin. And also a metal package versus a plastic package because that reads luxury to me. And beautiful imagery that I gave my heart to. I traveled to Germany to shoot this campaign. This is my investment. It's coming from me. This was not created by somebody and then presented to me on a table. I'm not backed by anybody. This is just me working to build my ideas. I'm an artist building a brand from an artist's standpoint; I'm not a celebrity building a brand from a celebrity standpoint.
There are a number of folks out there who are makeup novices and might look at a product like this and think it's too sophisticated for them. What do you say to them?
It's so simple. Get a shade that's wearable. "How's Your Head?" is the second shade in the formula (it's like, come on, Drag Race tribute — it's what people know me for literally and it pokes fun at something funny), but it's an easy shade, so wear something that you know you can get away with during the daytime and if you feel like exploring a little danger, try "The Other Woman," which is a provocative way to wear something that is classic. Use a lip liner to structure the lip. Watch my YouTube videos to see how to do that. And then focus on the basic firsts, then explore extreme artistry. You're gonna want to build on your comfort and your confidence and then elaborate on that.