Amazon raises its minimum wage to $15 per hour for all US employees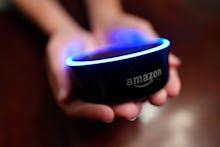 Amazon employees in the United States will now receive a minimum wage of $15 per hour, up from the $7.25-per-hour minimum first set in 2009. The change, going into effect on Nov. 1, will affect employees of the Amazon-owned supermarket Whole Foods as well.
According to the New York Times, the minimum wage will also affect part-time employees as well as workers hired through temporary agencies. A total of 250,000 workers across Amazon and Whole Foods will see increased wages. In addition to thousands of workers seeing a pay increase, Amazon's policy team will lobby the federal government for increased minimum wage laws across the country.
"We listened to our critics, thought hard about what we wanted to do and decided we want to lead," Amazon CEO Jeff Bezos said in a statement, according to the Times. "We're excited about this change and encourage our competitors and other large employers to join us."
This move marks one step forward for Amazon, which has a history of reportedly treating their workers unfairly. For example, warehouse employees told Business Insider in May about "brutally aggressive" metrics that had workers worried they could be fired at any moment. Some workers were resigned to urinating in bottles because taking a bathroom break could mean missing a target metric. Earlier, in October 2014, the world learned how Amazon refused to pay temp agency employees for the time they spend going through end-of-day security checks, a process that can take up to 25 minutes. The Supreme Court backed Amazon up.
Meanwhile, Bezos has become the richest man in modern history, worth $165 billion.
Employees around the world have voiced their concern over Amazon's treatment of its workers. The most recent Prime Day, Amazon's day of deals on July 16, was met with protest. While customers shopped, Amazon's warehouse workers in Spain went on strike for three days. They were later joined by workers in England, France, Italy, Germany and Poland who also spoke out against the company's treatment of employees. Amazon workers in Spain had also protested four months earlier, in March.
ZDNet notes that minimum wages will also see an increase in the United Kingdom. London employees can expect 10.50 pounds while the rest of the U.K. will receive, at minimum, 9.50 pounds.