Democratic House candidates are posting millions in record-setting fundraising hauls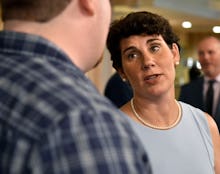 In a fresh sign of juiced Democratic enthusiasm for the midterm elections, Democratic House candidates this week are posting record-breaking fundraising hauls from the third quarter of 2018 — showing how they are flush with cash in the final stretch of their campaigns.
Multiple Democratic House candidates have reported raising multiple millions of dollars from July to September. These are totals that House candidates used to raise in an entire two-year election cycle.
"It reflects the enthusiasm out there, particularly on the Democratic side, and the passion that Democratic partisans feel," Stu Rothenberg, a nonpartisan political handicapper with Inside Elections, said in an interview. "It's one thing to vote for someone, it's another to answer a poll to say you're going to vote for someone, it's another thing when you answer the door when a candidate knocks. But none of those compare to digging deep and sending money."
Candidates have until Oct. 15 to report their third-quarter fundraising totals, but candidates can release the numbers whenever they're calculated.
Massive hauls have been reported from former Marine fighter pilot Amy McGrath in Kentucky's 6th District, who raised a whopping $3.65 million between July 1 and Sept. 30.
In California's 10th District, where GOP Rep. Jeff Denham is trying to defend a district Hillary Clinton carried by a 3-point margin in 2016, Democratic nominee Josh Harder raked in $3.5 million.
And in Illinois' 6th District — another top Democratic target, where Rep. Peter Roskam is trying to hold onto his seat in a district that Clinton carried by a 7-point spread in 2016 — Democratic nominee Sean Casten raised $2.6 million, according to Politico.
Candidates who post massive fundraising hauls also have a competitive edge. This is thanks to campaign finance laws that require television stations to give candidates a better ad rate than super PACs and other outside groups. PACs and other outside groups also are forbidden from allowing the candidate to make direct appeals in their ads, which is limiting in the kind of messages they can send.
"Campaign consultants will tell you that candidates can make better use of money than the super PACs can, because they can put the candidate in a campaign ad in a way the super PACs can't, and they get more value," Rothenberg said.
Given the influx of spending from super PACs such as the Congressional Leadership Fund, which is tied to House Speaker Paul Ryan, Democratic candidates with big bucks to spend can directly refute the GOP attacks on air.
For example, McGrath is using her overflowing campaign war chest to counter Republican ads that seek to portray her as an out-of-touch liberal who is in the pocket of House Minority Leader Nancy Pelosi, the GOP's favorite boogeywoman.
"I'm Amy McGrath. I played soccer at the Naval Academy, so I can handle cheap shots," McGrath says in an ad, in which she's playing goalie in a soccer net. "Andy Barr says I'm against middle class tax cuts? Wrong — just his tax cuts for those at the top. He says I'm for open borders? That's ridiculous. And he keeps saying Nancy Pelosi. She didn't even want me to run. Mr. Barr, I was a registered independent, married a Republican and you're the one who's doubling the national debt. I approve this message. Congressman, is that all you've got?"
Of course, money isn't everything.
Candidates have to have the right message and fit the districts they're running in. And at a point, there are diminishing returns on campaign cash, especially if a candidate has either been defined early, or goes up on air too late to make a difference.
The influx of campaign cash for Democratic House candidates, though, is looking like another promising sign for Democrats hoping to win back control of the lower chamber.