White House misrepresents exchange in official transcript after Trump audibly insults woman reporter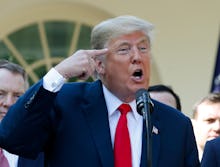 The White House has altered its official transcript of a tense back-and-forth on Monday between President Donald Trump and a female reporter, despite the existence of video footage in which the accurate exchange can be clearly heard.
After calling upon ABC News White House correspondent Cecilia Vega during a press briefing in the Rose Garden on Monday, Trump blithely remarked that Vega was "shocked that I picked her. She's like, in a state of shock."
"I'm not, thank you, Mr. President," Vega quickly responded.
Audio footage from the event indisputably captures what happened next: Trump, apparently mistaking Vega's comment for "I'm not thinking, Mr. President," counters, "That's okay. I know you're not thinking. You never do."
In the White House's official transcript, however, the comment is recorded as "I know you're not thanking. You never do."
As with so much of the Trump administration's bluster, it's impossible to say whether the edited transcript represents a calculated attempt by the White House to soft-censor the president's clear denigration of a female reporter's intelligence, or if it's a careless slip-up on the part of a government employee.
In either case, the HuffPost reported on Tuesday morning that the White House had issued a correction on the official transcript, amending the word in question to correctly read "thinking."
Following the exchange, Vega went on to ask her question, which was about the White House reportedly limiting the scope of an ongoing FBI investigation into the sexual assault allegations leveled against Brett Kavanaugh, Trump's second nominee to the U.S. Supreme Court. Trump sidestepped the question, admonishing Vega in the process for not sticking to the topic of the press conference, which was trade.
Later in the day, she seemingly acknowledged the awkward incident in a tweet.
"A news conference means you get to ask whatever question you want to ask. #FirstAmendment," Vega wrote.