The bar wanted a poster for drag night. But this one apparently wasn't white enough.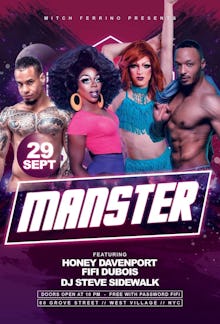 New York City's West Village — home to the birthplace of the gay rights movement — has long embraced diversity. But recent events surrounding allegations of racism at local gay bars suggest there's still much more to be accomplished.
Out magazine reported Sunday that a manager at the Monster, a renowned bar located across the street from the historic Stonewall Inn, criticized a poster advertising an upcoming drag show for "promoting [a] black night" which he said was "not good for the businesses." The poster featured two people of color in addition to Honey Davenport, a black drag performer.
Davenport posted to Facebook the original text exchange between Italo Lopez, the manager in question, and Mitch Ferrino, a DJ at the bar. In the exchange, Lopez asked Ferrino to revise the poster, noting specific changes, like putting the word drag in a smaller font size. Ferrino responded by agreeing to change the date.
"Yes, but it [looks] like we are promoting black night," Lopez then texted, adding that people could "get the wrong idea."
In response to Lopez's comments, Davenport made an announcement when she took the bar's stage for her scheduled performance the following night.
"Unfortunately, ladies and gentlemen, you won't be seeing me perform tonight. ... Yesterday, I was sent a message from the general manager that the ad from the party looked like they were promoting an event for black people and that it was bad for business," Davenport said before leaving the stage. "He said that the two dancers that we had on our stage tonight needed to be replaced with beautiful people. And after six years of literally laying everything I have on the line on this stage, I can no longer do it."
Since the text exchange was made public, other drag performers have criticized the Monster and a number of one-star reviews accusing the bar's management of being racist have flooded the establishment's Yelp page.
Monster's owner issued a statement via Facebook on Monday announcing Lopez's resignation.
"We are deeply upset as to how the language used in the recent text messages that came to light on social media miscommunicates our strong belief in community and diversity," owner Charlie Rice wrote. "For that reason, I am requiring all of our staff to partake in racial sensitivity training. After seeing vulnerable communities mistreated and addressed publicly [in the] past few years, we know that sweeping it under the rug is not the answer."
This isn't the first time New York's gay bars have faced allegations of racism. In 2010, a gay bar in the West Village that served a mostly black clientele shut down after reportedly being targeted by police for drug activity. Supporters claim racism played a role in the bar's closure. In 2017, a bar in Chelsea was accused of a racist door policy that favored white patrons over black ones.
"My art has no home where my people are not welcome," Davenport wrote in a Facebook post Saturday.