Patricia Okoumou, who scaled the Statue of Liberty, was denied trial by jury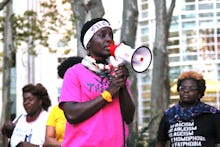 Attorneys for Patricia Okoumou, who made international headlines for scaling the base of the Statue of Liberty on the Fourth of July to protest Trump's immigration policies, was denied a request for trial by jury on Monday. A judge will be deciding the 44-year-old activist's case, which heads to trial on Dec. 17 at the U.S. Southern District Court in Manhattan, New York.
On July 5, Okoumou pleaded not guilty to three misdemeanors: disorderly conduct, trespassing and interference with government agency functions. Since each charge carries a sixth-month sentence, Okoumou is facing up to 18 months in prison for climbing the landmark. Prosecutors called Okoumou's climb a "dangerous stunt that alarmed the public and endangered her own life and the lives of the NYPD officers."
"I appreciate people being so passionate and excited about my act which opened up the eyes of those who may have been sitting on the coach comfortable with the American dream or being a little selfish," Okoumou told Mic during the March for Black Women, an event calling for the reauthorization of the Violence Against Women Act, on Sunday.
Okoumou, who is a naturalized citizen originally from the Congo, is a member of Rise and Resist, a direct action group started in response to Trump's election in 2016. The organization dropped a banner reading "Abolish ICE" at the Statue of Liberty on the Fourth of July. But without the the group's knowledge, Okoumou also planned to climb the base of the statue, where she protested for three hours as police ordered her to come down.
Okoumou's actions over the summer were motivated by outrage over Trump's "zero tolerance" immigration policy which separated at least 2,000 families. Amid the separation policy, there was a call to abolish the U.S. Immigration and Customs Enforcement. Currently, hundreds of undocumented children are reportedly being transported to a tent city in Tornillo, Texas.
A petition calling for U.S. Attorney Geoffrey Berman to drop the charges against Okoumou has gathered over 5,000 signatures, as of Tuesday. Okoumou is calling for her supporters to show up at her trial to stand in solidarity with the movement calling for children to be reunited with their families.
"I'm here to say enough and don't use immigration as a tool [and] as an excuse to say these are criminals and to take children from the arms of their mothers," Okoumou said. "How insane is that? I am outraged." 
Rhidaya Trivedi, an attorney representing Okoumou, said that she should not be criminalized for her actions, which were done to bring further attention to growing opposition toward Trump's immigration policy.
"Patricia really helped galvanize that, and from our perspective as radical lawyers, those are always actions worth protecting and those are not actions for which the imposition of prison is justified," Trivedi stated via phone interview Tuesday. "For that very specific reason, the people who undertake those kinds of actions do so with tremendous courage and with tremendous intention."