Meet @HauteLeMode, the creator of fashion's most viral and incisive memes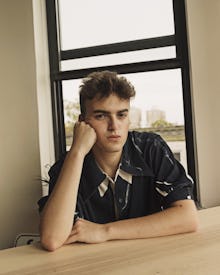 For Luke Meagher, fashion is a form of boundless entertainment.
"My love of the industry has always come from not primarily the clothes; it's more about the way the industry works because I see it like a reality show," Meagher said in an interview. "These people are ridiculous. I can't believe that half of them are real. Like, why are we not making fun of what they are doing and what they are saying?"
When he was 17 years old, Meagher, now 21, founded @hautelemode, both an Instagram account and a YouTube channel. His Instagram is primarily used to share fashion-centric memes, while the YouTube channel offers up fashion commentary and criticism.
"I don't know if [the fashion industry] likes that I do these things; I don't know if they even know," he said. "But... I don't care... anymore. I know I'm not ever going to get invited to Vogue or get W magazine to do an interview with me because I upset the balance of what they do."
For instance, in 2012, then New York Times fashion critic Cathy Horyn said she was banned from Hedi Slimane's Yves Saint Laurent runway show because of Slimane's objection to a review she had written eight years prior. The Business of Fashion's Imran Amed, who said he was also not invited to Slimane's show, wrote an exposé at the time in which he noted how Saint Laurent's team would write to them asking them to amend tweets and try to control communications about the brand.
Meagher, whose fashion education largely comes from meticulous internet research, joins a new guard within fashion that includes folks like Diet Prada and Pierre A. M'Pele — those unafraid to call it like they see it in an industry built on carefully crafted relationships that often beget access.
Mic chatted with Meagher about his place within fashion and listened to his insight on a number of wide-ranging fashion-centric topics.
How did you first gain such sartorial know-how?
It really has always been sitting down and reading. That's where it all started. I would read up on the history of brands like Dior and Balenciaga, the history of their businesses and the drama of their lives. And then I started to constantly read the Business of Fashion and Women's Wear Daily and I started following all the fashion and style writers on Twitter.
How would you describe the power dynamics within fashion?
It's a very insular industry, very secretive. They don't want anybody to know any of these things because it takes away the power of what they do. If people were to actually find out how they do the things that they do, they think it would take away the glamour and the magic of the industry. And I think it's a lot of really older people that run the industry and they've been doing it since forever when nobody could say anything because they didn't have the platform.
And many of whom were grandfathered into this industry...
Exactly. You knew this one or you were that one's assistant. It's always jumping from person to person to person.
So how do you view your role in all of this?
My thing is that now I kind of separate the shows and the creative from the actual product and what's actually going to sell. I know that none of Nicolas [Ghesquière]'s crazy Louis Vuitton is going to be the main selling point and that the McQueen runway stuff sold more than the skull-printed scarves. I know that the really simple basic products that people can invest their money into in terms of a luxury purchase is what's going to be bought. But if I can push the entertainment aspect and make sure that the wider audience is getting something out of it then I'm going to say that's what I want.
Diet Prada is getting more and more popular, with 785,000 followers now. Being that they self-publish, they are not beholden to an editor or any journalistic standards. What do you make of the popularization of criticism without any fact-checking?
I don't see them as an unchecked power. I still see the magazines as the unchecked power. The magazines still hold all the power. I think a lot of people see them as this scary thing because there's never been anyone like them in the industry and nobody has ever called out brands like Balenciaga for copying. It just kinda went by and by and Vogue and the other publications would still write a great review. It all comes down to who you are in with.
Let's talk about the idea of processing and what that means in fashion. I have a lot of instances where I will look at something and have an immediate, often visceral reaction to a look or a collection. And sometimes I'll read a review and revisit with that context in mind and see something completely different. I wonder what your process is like.
I use the Vogue Runway app to find all the shows during fashion month, that's what I live and die by. And I think that it's kind of toxic to process all of this stuff in such a short amount of time. Even if I'm watching three great shows, if I've been looking at shows for the past three weeks, then I don't process the way I want to. Either I'm not nice about something that I really should be taking a second look at or I'm nice about something that, again, I really should be taking a second look at. I try to do three photos in which I talk about the collection in those three photos, whether it's bad or good, and let that be the way that I put my opinion out there. I get a lot of feedback. That mentality is where my Instagram and YouTube diverge. My Instagram is very quick, very off the top of the head and visceral. YouTube is much more sit-down, process, write it all out, this is what I'm thinking. When I know a collection is so bad, there's no going back and looking through and trying to find the needle in the haystack — although I do try to highlight the better parts of the collection if they're present.
Do you ever have moments where someone in the comment section gives you a counterpoint to one of your claims and that makes you go back and reconsider your stance?
Yes, and that's something that I'm really proud of my audience about. My comments and my Instagram DMs are full of people being like, 'Actually, this and this' or 'The reason behind this might be this.' I'm constantly learning about cultural impacts. I got a lot of feedback for my use of the word gypsy, people explaining that it was a slur. And I might not comment back right away saying, "Thank you so much," it might take me a day or two to process it, but eventually I come to the notion where I'm going to try and stop saying that word because it does hurt people in my audience or people that watch my videos and I don't want to do that.
Let's talk about stan culture and if that at all impacts the work that you do or the work that the industry does. For instance, I am a giant Marni fan and so when I see a collection I am going in with the desire to love it, and so everything it presents will be working under that umbrella.
I am only human, but I do try to have an open lens with everything. Even with Rita Ora. Rita Ora shows up and I'm immediately like, "Rita Ora, why are you here?" But even with the celebrity kind of stuff, I do kind of have my own personal stuff that feeds into what I say and how I feel about it. And that certainly feeds into fashion. I definitely have people that I stan and that I love and they can do no wrong, but when I see something wrong, I try to say something.
And when somebody I don't love, like Dolce & Gabbana, does something that I love I'll say it. Naomi Watts wore a D&G dress recently at Venice and like, I hate Dolce & Gabbana but that dress was fuckin' fire. It was basic but it looked great on her and I'm never not going to say when something looks great if it does. Like Balmain, I have a very love/hate relationship with Olivier, like I hate him 'cause he's annoying on social media, but his early stuff was so beautiful and ferocious and fierce, a savagery even, whereas now that his collections are very commercial and yuck, but I'm still in the back of my head rooting for him.
And so if something doesn't live up to the standard that I've created for that designer or that person, I'm going to say just that. That's something I say a lot, "do better." I want everybody to succeed and put out a great collection every single season. But I know that's not possible. I never want to say anybody should flat-out be fired. Well, I did say Donatella [Versace] needs to go, but I want people to constantly be doing better.
What do you make of what I would consider an increasingly newer phenomenon: people without any formal fashion education having such strong opinions and wide audiences with which to push forward such opinions?
Am I counting myself in that? [Laughs]
I'm not.
Do you have an example?
Let's say the viral tweets surrounding the Versace acquisition? These tweets garnered tens of thousands of likes from unverified accounts.
They understand the lingo of "this is how you talk to people." They really are immersed in the culture of stan Twitter and that's something fashion, the industry, really doesn't engage with. Whereas someone like me comes in and picks up that slack. I wouldn't call that person a critic. I'd call that a stupid 18-year-old with a Twitter.
But I more mean the way in which people like that can influence people's understanding of fashion, for instance this narrative that Kors somehow represents the end of Versace as a respectable brand.
I definitely think fashion needs to be much more conscious of those that are criticizing these things because it affects the brand value. And so now people are going to have a negative connotation of the Michael Kors-owned Versace. It has the power to create stigma that the brands themselves likely do not understand.
What would be your reaction to a brand like Michael Kors using their social media to engage with this in some kind of clever way, the way we've seen brands like Netflix do in the past?
Again, fashion has really not caught up to the internet age. It's so hard for me to think about it because I know that in that office, they're either, A) dying about it and really having this PR scandal or B) they don't know what's happening or how to fix it. They'd never make a Michael Kors Twitter in which he'd respond although that would be the optimal thing to do, like Gordon Ramsay does when people ask about their dinner. I think Marc [Jacobs] did a good thing with the late meme. When they do it I think it definitely has an impact, but these brands are such dinosaurs so it's such an impossibility thinking about them being so smart as to pick up on this and then play into it in a way that's positive for them. Fashion people never want to stir the pot — they want to stick their heads in the sand and never deal with anything, and I think that's where they are losing. They have not caught up and they refuse to catch up because they don't hire anybody that would ever know how to turn this type of situation into a positive.