While You Weren't Looking: 5 stories from the Trump administration that aren't about Brett Kavanaugh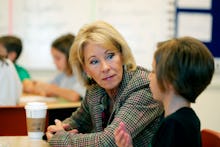 From a slipshod FBI investigation into wrongdoing to a last-minute vote of confidence from Maine Sen. Susan Collins, the first week of October 2018 was dominated by news about embattled Supreme Court nominee Brett Kavanaugh.
While the nation was tuned in to all things Kavanaugh and actress Amy Schumer was being arrested alongside hundreds of other sexual assault survivor and feminist allies in the nation's capital, there were plenty of other important stories you might have missed this week.
U.S. to stop issuing diplomatic visas to unmarried same-sex partners
In a Monday memo, the U.S. State Department confirmed that it would no longer issue visas to the same-sex partners of unmarried diplomats, beginning immediately — a shift that could pose significant hurdles to couples from countries where same-sex marriage is not yet legal.
Although the policy change officially went into effect on October 1, it was announced as early as July, when the State Department said that it would only "accept the accreditation of spouses, both same-sex and opposite-sex," as a means "to help ensure and promote equal treatment" between straight and gay couples, according to NBC News.
The new policy is intended "to help ensure and promote equal treatment" between straight and gay couples, a State Department spokesperson said in a statement, according to NBC News.
Any foreign-born same-sex partners seeking to remain in the U.S. are expected to submit proof of marriage to the State Department by Dec. 31, 2018, or vacate the U.S. within 30 days of the deadline, according to Time.
EPA moves to weaken regulations around radiation exposure
The Trump administration is gearing up to slacken restrictions around radiation exposure — the EPA's latest move to roll back regulations on environmental toxins and pollutants, the Associated Press reports.
According to the AP, supporters of the proposal believe that the government's current line on radiation — that any amount of exposure poses a risk of cancer — "forces unnecessary spending for handling exposure in accidents, at nuclear plants, in medical centers and at other sites."
To back up its own cost-saving measures, the government has reportedly turned on at least one occasion in its official literature to what the AP refers to as "scientific outliers" who argue that, in fact, radiation in small amounts can be healthy for you in small doses — like sunlight.
Betsy DeVos's security detail will reportedly cost an estimated $7.7 million in 2019
In fiscal year 2018, the security detail for Education Secretary Betsy DeVos was a whopping $6.79 million — more even than the $6.54 million department officials had initially estimated as a "high water mark."
But in 2019, security for DeVos is projected to blow past that number, rounding out somewhere around $7.74 million, Politico reports. The unusually high number owes to the fact that the current Education Secretary is provided with round-the-clock supervision by the U.S. Marshals Service — protections that have not been granted to her four most recent predecessors.
While the Marshals Service declined to tell Politico the exact nature of the threats DeVos is facing heading into the new school year, it's worth mentioning that in 2018 she had some high-profile confrontations. In February, she was effectively chased out of a Washington, D.C.-area school after protestors blocked the doors, chanting, "Shame!" as she darted into a waiting SUV.
Trump's new NAFTA agreement has a new name, not much else
After much ado about "bad trade deals," the North American Free Trade Agreement, or NAFTA, has gotten a face lift and a new name — but, according to experts, not much has actually changed in the way of substance.
Now known as the U.S.-Mexico-Canada Agreement, or USMCA, the new trade deal codifies protections designed to manage trade, according to Quartz. At Trump's request, the agreement stipulates how much North American content any given product must have — but trade experts are wary about how significant the protections will actually be in practice.
"I'm glad to see that NAFTA has survived intact—ripping up the deal would have made matters much worse—but the modified agreement isn't going to fix the underlying forces behind many voters' economic frustration," Emily Blanchard, an associate professor at Dartmouth College's Tuck School of Business, told Quartz. "These trade wars are wasting precious time and distracting us from talking about economic policies that could actually help American voters."
U.S. pledges $20 million to Mexico to deal with the migrant crisis
Although both Mexico and the United States Congress balked at the move, the White House pledged to pay Mexico $20 million this week, to be used for the purpose of managing deported migrants and preventing them from re-entering the U.S.
According to ABC News, the plan is just the latest plank in the Trump administration's "zero-tolerance" crackdown on illegal immigration, but an attempt to squeeze the funding package through at the last minute without the support of Congress has some representatives up in arms.
In a letter to Secretary of State Mike Pompeo this week, Sens. Bob Menendez and Patrick Leahy wrote that the move was "contrary to years of practice and precedent," and had been piloted through in "a manner that threatens to upend long-standing norms of comity between the Department of State and its oversight committees in Congress."