Illeana Douglas describes alleged sexual assault by Les Moonves: He put "his tongue down my throat"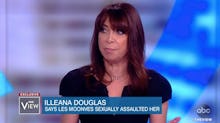 Actress Illeana Douglas, one of the women who accused former CBS CEO Les Moonves of sexual assault, spoke publicly about her experience with Moonves in an appearance on Tuesday's episode of the ABC talk show The View.
Douglas described an incident that allegedly took place in the '90s, when she scored a TV production deal with CBS. She said she was up for a co-starring role in a new comedy series when Moonves called her in to his office to discuss her "attitude." Douglas said she went into the meeting hoping to express how excited she was to join the show.
"All I wanted to do was tell him what a team player I was going to be, to be in the show. How excited I was," she said about her feelings before going into the meeting. "He started asking me a lot of personal questions and I was stumbling and fumbling and not really knowing what to say and that, of course, led to him, you know, jumping on top of me and putting his tongue down my throat and pinning me down on the coach."
Douglas said that, up to that point, she hadn't experienced sexual assault or harassment in her show business career. "I heard about the casting couch experience … but I came from the artistic bubble of doing low-budget indie films," she told the hosts of The View. And Douglas said she had gone into the meeting trusting Moonves, who she said she thought of as a "father figure."
She said that she was eventually able to leave Moonves' office. "Once he saw I wasn't participating, he stopped," she said, adding that Moonves allegedly told her, "We're going to keep this between you and me, right?"
Douglas said she went to her car in the CBS parking lot and cried, and that days later, she was fired from the sitcom she was supposed to co-lead. She said that Moonves called her personally to fire her.
Tuesday's appearance on The View was the first time Douglas had spoken about her allegations against Moonves on television, but she also shared her story with Ronan Farrow in a report about Moonves published in the New Yorker in August. Moonves left his role at CBS in September.
Notably, The View is a daytime competitor of The Talk, a CBS talk show that, until recently, was cohosted by Julie Chen, who is married to Moonves. In September, Chen announced she was leaving her role on the show "to spend more time at home with my husband and our young son."