Mitch McConnell: FBI report on Brett Kavanaugh won't be made public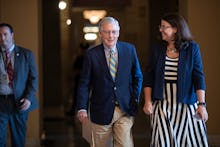 Senate Majority Leader Mitch McConnell says the FBI's investigation into sexual assault allegations against Supreme Court nominee Brett Kavanaugh won't be made public, and instead will only be allowed to be viewed by senators before a vote is held this week.
"Only senators will be allowed to look at it," McConnell said at a Tuesday news conference of the FBI's report, which Republicans have demanded be wrapped up by Friday.
Earlier Tuesday, McConnell — who held the Supreme Court seat of former Justice Antonin Scalia open for more than a year by refusing to grant a hearing or vote to former President Barack Obama's nominee Merrick Garland — attacked Democrats for forcing the delay on Kavanaugh's confirmation.
"Let me make it very clear: The time for endless delay and obstruction has come to a close," McConnell said on the Senate floor.
McConnell's comments mirror those from Senate Judiciary Committee chairman Chuck Grassley, who said Tuesday morning that the full report won't be publicly released.
Senate Majority Whip John Cornyn also told reporters earlier Tuesday that he is "hopeful" that there will be some sort of "statement" about what was in the report, but otherwise the full contents will be hidden from public view.
"I think it's important that the results in some form be shared with the public," Cornyn said, according to Talking Points Memo.
The decision to withhold the full FBI report is sure to set off another political firestorm in Washington around Kavanaugh's nomination.
A handful of Republican senators, including Jeff Flake of Arizona and Lisa Murkowski of Alaska, pushed for an FBI investigation into the multiple allegations of sexual assault levied against Kavanaugh before a vote on his nomination is held.