Amber Rose on pressures of rape culture: "I said 'no' but I did it anyway because I felt obligated"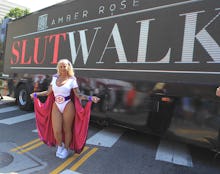 The Amber Rose SlutWalk returns to the streets of Downtown Los Angeles for the fourth year on Saturday. 2018's event will call special attention to voter registration ahead of the midterm elections in November.
Rose launched the platform in 2015 to bring awareness to sexual violence, domestic violence, gender inequality and to raise the voices of those fighting those issues every day. At past marches, Rose has made provocative statements that push back against slut shaming, the stigmatizing of women for being promiscuous or sexual. For instance, in 2017, Rose wore a white superhero costume and carried a sign reading "Captain Save-a-Hoe." This year we should expect no different from her SlutWalk outfit, though she wouldn't give us any hints about what it'll be.
"I want to wait for the day for people to see it to start a bigger conversation," Rose said in a phone conversation recently.
On Saturday, Rose expects to draw a crowd of more than 20,000 people to a day full of activities further dismantling the patriarchy. Registration begins at 8 a.m. Pacific at 1st and Hill streets, and the march kicks off at a 10 a.m. Immediately following, there will be a festival at Pershing Square from 12 p.m. to 5 p.m. The event also features an art walk, performances, live DJs, educational booths, HIV testing and free breast cancer exams.
Ahead of the 2018 Amber Rose SlutWalk, Mic chatted with Rose about the pressures of rape culture, her evolving thoughts on marriage and what she's looking forward to most this year.
Mic: What experiences led you to start the SlutWalk?
Amber Rose: Honestly, I feel like I've been experiencing a lot of things that have to do with the walk my entire life. I didn't know what to call those things. But I know that I felt bad. I know that I felt used. I know that I said "no" but I did it anyway because I felt obligated. I remember being in situations where I didn't understand that it was rape. I didn't understand that it was sexual assault. I didn't understand that I was being slut shamed for things that I didn't do, or did do.
I didn't have the words to associate with those things, and then as I got older, I realized that I wasn't alone and I started doing more research and understanding all the things that I'd been through do have definitions. But starting SlutWalk and helping women is my work and my passion so it helps me heal myself and recover by helping other women.
How did you go about learning that language to describe your experiences with sexism?
AR: I feel like God just brought it to me, honestly. I feel like I would have very long, intellectual conversations with people and I would find myself debating on why things weren't right. And then I was just like, "I don't understand how people could think like this." They would be like "Well, you know if she dresses this way, if she's a hoe, then she just wants to fuck."
I was that girl having fun, but somebody kept sticking their whole hand up my fucking skirt. That was me. I've experienced those things. And I remember not asking for that, I just felt really pretty that night and I was having fun. I think that's how it all came into fruition.
Midterm elections are in November. How are you incorporating messaging about it into this years events?
AR: Well, we definitely have Rock My Vote. We have voter registration all ready and prepared for you to come and register.
What else do you want to tell your fans about the urgency of midterm elections?
AR: I would say do your research. Which I'm doing now! And register to vote and understand that you have a voice.
Is there any other topic related to the issues SlutWalk brings to light, that's really grown in your consciousness recently?
AR: I feel like this year, and this is minor, but there is a thing about men having the control over buying the wedding ring to marry the woman. And I feel like I've been talking about that a lot amongst my friends and peers. It's no longer like "Yo, I love you, let's get married" it's like, "No, I want to control you to the point where I string you along for years at a time. And you wait, and wait, and wait, until you finally get the ring."
It really doesn't mean anything. Does the ring mean anything? Does the paper mean anything? Is it the same exact relationship that it was before, but now you just feel obligated to buy a ring and sign paper? I feel like it's the ultimate control for the heterosexual relationship. I feel like it's bullshit. I probably won't get married again, to be honest.
Yeah, I feel there are more women writing openly about emotional labor in marriage and the pressures of motherhood.
AR: Yeah, I just feel like culturally, society is like "Why are you not married? Why are you 39 and not married? Why do you not have kids?" It's just, I don't want to! Some people just don't want to have kids. Some women just don't want to have kids and it's always shaming. They shame that you're divorced. They shame that you're not married again. Or they'll be like, "Don't you want more kids?" Maybe I don't! I don't know. It's always a shame thing when it comes to women, all the time. I feel like those are all new, not necessarily new, but new for me to have these conversations come up all the time.
Ultimately, what are you looking forward to most with the SlutWalk this year?
AR: I'm so happy that it has grown over the years tremendously and it's more awareness. I feel like last year we had a lot of straight, male feminists which I thought was really awesome. I mean it's gone from 2,500 people to 11,000 people to over 20,000 people, so the fourth year, I'm sure is gonna be overwhelming in a really good way.
Will there be any special guests to look out for this year?
AR: It's still up in the air about who's actually going to headline SlutWalk, but as far as celebrities, we've had celebrities come every single year. We just kind of don't promote them, they just come.