Mic Daily: The White House misrepresents Trump's offensive comments in official transcript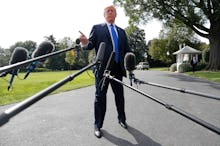 Welcome to Mic Daily: Mic's newsletter that cuts through the noise and lands in your inbox every weekday. We carefully curate each edition to send you a cross section of our most vital stories of the day.
Want more entertainment news in your inbox? Sign up for Hype Daily — Mic's morning entertainment briefing. It's got all the news you need to start your day.
Say you're a university official or municipal leader grappling with a Confederate memorial in your town. What's the best plan of action, given the strong emotions the statue probably raises?
For what not to do, look no further than the University of North Carolina at Chapel Hill. For more than a year, university officials and state leaders failed to take any action on Silent Sam, the bronze Confederate soldier that stood in a prominent spot on the university system's flagship campus.
The White House has altered its official transcript of a tense back-and-forth exchange Monday between President Donald Trump and a female reporter, despite the existence of video footage in which the accurate exchange can be clearly heard.
In a fresh sign of juiced Democratic enthusiasm for the midterm elections, Democratic House candidates are posting record-breaking fundraising hauls from the third quarter of 2018 — showing how they're flush with cash in the final stretch of their campaigns.
Andrew Gillum took the stage at a campaign rally in Kissimmee, Florida, on Monday and announced he wants to be "the candidate of the Boricuas" in his bid for the state's governorship.
"I want that label, and not in a tokenizing way," Gillum, flanked by Puerto Rico Gov. Ricardo Rosselló, told the crowd assembled in the heart of one of Florida's most prominent Puerto Rican strongholds. "I want it in a way that says we understand each other, in a way that says we're one and the same. You're not gifting any of us anything. We work for what we've got."
Trump has endorsed a number of questionable things throughout his career, including pizza, McDonald's and even professional wrestling. But there seems to be no greater love of Trump's than Diet Coke.