Today in Trump's America: Backlash after Trump mocks Christine Blasey Ford at campaign rally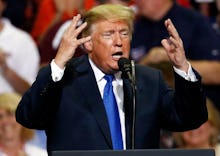 Welcome to Mic's daily read on Donald Trump's America. Want to receive this as a daily email in your inbox? Subscribe here.
Good morning from Emily Singer at Mic.
Here's what's happening in Trump's America:
• President Donald Trump has a light day. It begins at 11:30 a.m., when he'll receive his daily intelligence briefing.
About last night: Trump's restraint in Kavanaugh assault allegations comes to an end as he mocks accusers
Trump's days of being respectful to Palo Alto University professor Christine Blasey Ford are in the rearview mirror after he mocked her recollection of the night she says Supreme Court nominee Brett Kavanaugh sexually assaulted her back in the 1980s.
"How did you get home? I don't remember. How did you get there? I don't remember. Where is the place? I don't remember. How many years ago was it? I don't know. I don't know. I don't know," Trump said of Ford's memory of the alleged assault. "But I had one beer. That's the only thing I remember."
Experts told Mic on Thursday it's not uncommon that Ford doesn't remember some details of the night of her alleged assault.
Trump went on to sympathize with Kavanaugh.
"And a man's life is in tatters. A man's life is shattered. His wife is shattered," Trump said, adding those who helped make Ford's case public, "destroy people. They want to destroy people. These are really evil people."
The president made these comments during a campaign rally in Mississippi, where he was stumping for two Republican senators who are up for re-election in November.
Even Senate Republicans have steered clear of attacking Ford, with many saying they believe something bad happened to her, even as they cast doubt that it was Kavanaugh who was her attacker.
In fact, Trump himself was at first deferential to Ford after she testified publicly on Thursday, calling her a "very credible witness" and "a very fine woman," while saying her testimony was "very compelling." His tune has now completely changed.
Sen. Jeff Flake (R-Ariz.), who helped push for an FBI investigation into the Kavanaugh allegations, condemned Trump's attacks on Ford Wednesday morning.
"There's no time and no place for remarks like that," Flake said in a joint appearance with Democratic Sen. Chris Coons of Delaware on Today. "To discuss something this sensitive at a political rally is just not right; it's just not right. I wish he hadn't had done it. I'll just say it's kind of appalling."
Sen. Susan Collins (R-Maine) also condemned Trump's remarks. "The president's comments were just plain wrong," she told reporters on Capitol Hill.
Meanwhile, Sen. Lisa Murkowski (R-Alaska) called Trump's comments "wholly inappropriate" and "unacceptable."
Both Republicans are considered swing votes in terms of Kavanaugh's confirmation.
And one of Ford's lawyers condemned Trump's attacks on his client.
"A vicious, vile and soulless attack on Dr. Christine Blasey Ford," Michael R. Bromwich tweeted. "Is it any wonder that she was terrified to come forward, and that other sexual assault survivors are as well? She is a remarkable profile in courage. He is a profile in cowardice."
Ford's testimony sparked another FBI inquiry into Kavanaugh, which Republicans have demanded be completed by Friday. Senate Majority Leader Mitch McConnell said the report won't be made available to the public and vowed to vote on Kavanaugh this week.
The White House has set parameters for who the FBI can interview as part of the probe. But according to the Washington Post, both the Trump administration and the FBI are now worried about possible investigations of the investigation should Democrats win the House in November and gain control of Congress' oversight committee.
Today in Trump's America: Trump's finances again under scrutiny after bombshell New York Times investigation
The New York Times published a bombshell report Tuesday afternoon that says Trump is not the self-made billionaire he's portrayed himself to be for decades and instead gained his fortune by committing "outright fraud."
The Times report, based on more than 100,000 tax and other financial documents, says Trump didn't build his empire with a "small" $1 million loan from his father. Instead, his late father Fred Trump funneled millions to Trump over the years and often bailed his son out from a litany of failed business deals.
A lawyer for Trump denied the report in a statement and threatened legal action if the report was published.
"The New York Times' allegations of fraud and tax evasion are 100% false, and highly defamatory," Charles J. Harder, a lawyer for Trump, said in a statement to the Times. "There was no fraud or tax evasion by anyone."
The White House has decried the report as "misleading" — though it did not refute any of the claims and simply attacked the Times for not wanting to report on positive things Trump has done.
"Fred Trump has been gone for nearly 20 years, and it's sad to witness this misleading attack against the Trump family by the failing New York Times," White House press secretary Sarah Huckabee Sanders said in a statement. "Many decades ago the IRS reviewed and signed off on these transactions. The New York Times' and other media outlets' credibility with the American people is at an all-time low because they are consumed with attacking the president and his family 24/7 instead of reporting the news."
A bombshell story of this magnitude is scrutinized by many people within a news organization, including lawyers. For the Times' legal department to allow reporters to write that a sitting president engaged in tax fraud is unprecedented and should not be taken lightly by readers.
For now, it's unlikely the GOP-controlled House will act on the report, as its done little oversight of Trump. But if Democrats win the House in November, all bets are off, as the party would control the House Oversight Committee and could launch an investigation into the Trump family finances.
And the rest...
A little radiation... does the body good?: The Trump administration is set to loosen regulations on radiation exposure, basing the decision on "scientific outliers who argue a bit of radiation is actually good for you," the Associated Press reported.
Democratic rising star takes time away from spotlight: Jason Kander, a military veteran who has been hailed a rising star within the Democratic Party, announced Tuesday he has PTSD and depression as a result of his military service, and he is going to take time to seek treatment rather than run for mayor of Kansas City.
Wednesday, Oct. 3, 2018 12:52 p.m.: This article has been updated.