Hype Daily: Noah Centineo signs on to the 'Charlie's Angels' reboot and more entertainment news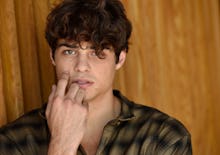 Welcome to Hype Daily, Mic's morning entertainment roundup. Here's everything you need to catch up on in the entertainment world and what to look forward to today. Want to receive this as a daily email in your inbox? Subscribe here.
Good morning angels ... um, I mean readers. It's time to take a cool, refreshing dip in the waters of the latest entertainment news. Come on in.
The internet's boyfriend Noah Centineo is joining the new Charlie's Angels reboot
Our collective adorable boyfriend Noah Centineo, the romantic lead of To All the Boys I've Loved Before and Sierra Burgess Is a Loser, has a new gig. Variety reported on Tuesday Centineo has signed on to play a "key role" and a love interest of one of the Angels in the upcoming Charlie's Angels movie.
The new Charlie's Angels, due out in September 2019, is being directed by Elizabeth Banks, who is also playing one of several Bosleys, according to Variety. Kristen Stewart, Naomi Scott, and Ella Balinska are the three Angels — but it's not clear yet which one of them is playing opposite Centineo.
Janelle Monáe is joining the new Harriet Tubman biopic
In more cool casting news, singer and actor Janelle Monáe, who appeared in the Oscar-winning Moonlight and the historical drama Hidden Figures, is joining the cast of Harriet, the new Harriet Tubman biopic in the works from Focus Features, Variety reported Tuesday. Monáe joins a cast that includes Cynthia Erivo as the titular abolitionist hero, as well as Leslie Odom Jr., Joe Alwyn and Jennifer Nettles.
We don't know exactly what role Monáe will play yet, but filming for Harriet starts this month in Virginia, so maybe we'll get more details soon.
Anne Hathaway posted a lovely birthday message to Julie Andrews
On Tuesday, Anne Hathaway posted a sweet birthday message to her on-screen grandma, Julie Andrews, in honor of Andrews' 83rd birthday on Monday. Hathaway shared a photo of the two of them from one of the Princess Diaries films and added a long caption.
"The importance of grace; The knowledge that power is nothing without respect; Why one must have patience, positivity, perspective, manners, kindness, and humility Always, To everyone, (No exceptions); The joy in treating people as a gift rather than a burden; How far choosing gratitude can get you... If I know anything about any of this, It's because I was lucky enough to have learned from the very best at the very beginning. Happy Birthday Julie, Queen Eternal. All my love, Annie." That makes me wish Julie Andrews was my fake grandma, too!
Ruby Rose is the most dangerous celeb on the internet (???)
Here's some odd celebrity news for you: Actor Ruby Rose is officially the most "dangerous" famous person on the internet, at least according to cybersecurity firm McAfee. As the Hollywood Reporter reported on Tuesday, McAfee named Rose as the celebrity whose name most often takes internet users to "websites that carry viruses or malware." Basically, when you google Ruby Rose, stop clicking on weird suspicious spam sites and read her Wikipedia page instead.
Put this on your radar: The Hate U Give
The drama The Hate U Give, based on a young adult novel of the same name, hits theaters on Friday. The film stars Amandla Stenberg as Starr, a black teen from a mostly black neighborhood who leaves her world every day to attend a predominantly white private school. But her separate bubbles are shattered when her best friend is shot and killed by a police officer.
Variety called the film "a brilliantly modulated balancing act between dark and light, anger and optimism, white privilege mined for pointed laughs and black fury portrayed as a galvanizing force for change." Definitely worth checking out this weekend.