Is now really the time to show women bound and gagged on the runway? Thom Browne seems to think so.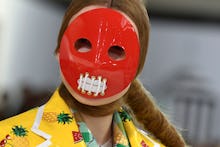 For his spring/summer 2019 presentation at Paris Fashion Week, designer Thom Browne walked 43 models down the runway, many of whom had their arms bound by fisherman's nets or faces obstructed by Hannibal Lecter–esque masks.
The models, who appeared visibly uncomfortable — which could have been the point, or they could have been acting, or legitimately scared or perhaps a combination of all three — walked carefully down the runway built within the Tennis Club de Paris.
"It was hard not to feel unsettled by the jackets and coats," Vogue's Chioma Nnadi noted in her review. "And perhaps that was the point."
As the Washington Post's Robin Givhan noted, "Sometimes the binding was so tight that the models looked as though they'd been taken hostage. One dress — inspired by a lobster and accessorized with giant red trapunto claws — had the model's arms so firmly tied to her sides that it was like watching a death-defying Flying Wallenda tightrope act as she tried to balance on the treacherous high heels without benefit of her arms."
"We're finding it hard to grasp the need to show women literally bound and gagged on the runway at this particular moment in time," Diet Prada wrote in their review. "In an era where women's accusations are consistently doubted and dissected at every step, this showing reads as tone deaf."
There was counter-point offered up by some including model Teddy Quinlivan, who walked for Maison Margiela, a show which also obstructed its models faces and bound their arms via belts and coats.
"Instead of jumping to conclusions about the meaning of the collection maybe keep in mind that the meaning is subjective and not necessarily 'tone deaf,'" she wrote in the comment section of Diet Prada's post. "You saw the silencing of women... I saw the strength of the women pushing forward trudging on despite all of the obstacles in the way."
Show notes, provided by attendees and press, often give insight and context to the designer's intentions. But in the case of Thom Browne, not so much.
"Exaggeration is bad, just as it is good," the designer wrote in the show's notes, amid seven paragraphs that read more like a riddle than discernible intel. "Good requires bad and bad requires good: The two go hand in hand." No mention at all about what could be perceived as a statement around the way women are often silenced or made to feel confined by men.
This not to say fashion has an overt obligation to reflect the culture or conversations within it. But to ignore the larger context of our current moment might make a designer susceptible to criticism — especially in a collection that quite literally puts its female models in danger. (Just imagine if one had tripped in those sky-high heels; what then would she do?)
Modeling is one of the incredibly rare industries that pays women more than men. But with a reckoning around rampant sexual assault in the industry going largely unchecked and the exit of "the world's leading feminist fashion designer" from a storied fashion house in favor of a man, many within the industry seem unequipped or unwilling to consider the role fashion can play in the betterment of women.