Pulled over by police? Siri can quietly record video and send your location to an emergency contact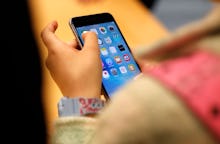 If you've been pulled over by law enforcement, your iPhone can now text your location to an emergency contact and share with them video of the interaction afterward — all by telling Siri a single word.
A new workflow titled "Police" allows your iPhone to do these actions and more when you've been pulled over. Reddit user RobertAPetersen, full name Robert Petersen, crafted the trick using Siri Shortcuts, Apple's iOS 12 app that extends its virtual assistant's capabilities. When triggered, the shortcut will complete the following actions: lower your phone's brightness, turn on Do Not Disturb, send your location via text to an emergency contact and let them know you've been pulled over. The shortcut will also automatically start capturing video with the front-facing camera. Once the user stops the video recording, it can automatically be shared with the emergency contact or to a cloud service like Dropbox.
iPhone users on iOS 12 can grab the "Police" shortcut here.
Petersen got the idea for the Siri shortcut from seeing police interactions covered in the news. "I noticed in news articles and reports on TV that in many cases, police say one thing happened and the citizen pulled over says something else," Petersen told Mic over Twitter DM. "How do you determine the truth?"
Hoping to give everyone an objective record of what happened, Petersen devised the shortcut. "Sometimes police have body cameras, sometimes not," Petersen said. "When they do, the video is not always released in a timely manner. I wanted a way for the person being pulled over to have a record for themselves."
Since the "Police" shortcut was made available, others have tweaked the formula to create their own. One iteration of the shortcut will automatically tweet the video instead of sharing it with a contact. Another will reboot your phone, requiring you to enter your passcode upon restart. This prevents law enforcement from forcing their way into your phone. (Police can make you open your phone with a fingerprint or face detection scan, but not via password.)
Petersen has a few tweaks in mind for his video-recording solution. "I'm considering support for live streaming video instead just recording footage locally," he said. "I'm not sure that any of the major live streaming apps support Shortcuts as of yet, but I'm definitely looking into that."
Apple's Shortcuts app has extended the iPhone's abilities past what Apple has built in. Users have created shortcuts that can turn burst-mode photos into gifs or let you download Youtube videos right on your phone. iPhone apps like the weather app Carrot Weather or the transit app Citymapper have made available shortcuts also, allowing users to assign custom phrases to common actions within those apps.
Of course, a situation like being pulled over by the police is much less commonplace than grabbing the weather or a train route. But "Police" equips iPhone users for those uncommon situations, too.
Oct. 3, 2018, 4:15 p.m.: This story has been updated.