'Venom' is getting savaged by critics. Here are some of the most brutal reviews.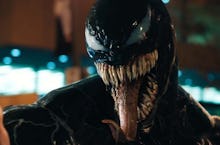 The reviews are in for Venom, the new Spider-Man-adjacent movie from Sony Pictures Entertainment, and they're really not looking good. The film, which opens on Friday has been billed as a darker, antihero franchise — but reviewers seem to mostly agree that, as an endeavor, it's somewhat of a failure.
For those unfamiliar with the iconic comic book character, here's a primer: The main character of Venom, played by Tom Hardy, is a buff journalist named Eddie Brock who accidentally merges with alien slime (a symbiote), imbuing him with superpowers and a dark alter-ego, named Venom. Michelle Williams also stars as Brock's love interest, Riz Ahmed plays a villainous rich guy and Jenny Slate and Woody Harrelson also feature. But apparently not even a stellar cast could save the film, which, as of Wednesday afternoon had a 33% rating on Rotten Tomatoes.
And reviewers of the film are not holding back when it comes to the colorful language they're using to describe just how not good Venom is. Rolling Stone critic Peter Travers called the film a "puddle of simplistic, sanitized PG-13 drivel," and noted that "it's hell watching the mega-talented Hardy struggle with a mumbly American accent and a script that chokes the vibrant life out him."
Justin Chang of the Los Angeles Times called Venom "pretty weak poison," and noted that, while it's not quite "terrible," the film "tells a stale, workmanlike origin story, cursorily updated with drive-by references to climate change and fake news, and outfitted with cheaply serviceable visual effects."
And more than one reviewer compared Venom unfavorably to Marvel Studios' critically acclaimed and commercially successful Black Panther, which came out in February, including Todd McCarthy of the Hollywood Reporter. He called Venom "a poor second cousin to the all-stars that have reliably dominated the box-office charts for most of this century. Partly, this is due to the fact that, as an origin story, this one seems rote and unimaginative. On top of that, the writing and filmmaking are blah in every respect; the movie looks like an imitator, a wannabe, not the real deal."
In a particularly rough review, Peter Bradshaw of the Guardian said that the film was a "clumsy, monolithic and fantastically boring superhero movie-slash-entertainment-franchise-iteration," called Williams' character "outrageously boring and submissive" and said that director Ruben Fleischer is "uninspired."
And Bryan Bishop of the Verge said that Venom is "a train wreck of a movie, mixing and matching wildly dissonant tones, bizarre plot contrivances, and a truly unique lead performance. It's full of odd slapstick moments and computer-generated effects that look like they were pulled straight from the 1990s." Ouch.
Not everyone hated it, though even the positive reviews acknowledged some glaring flaws. Katie Walsh of the Tribune News Service called Venom "a mess, but wow, is it ever a fun, fascinating mess." Vanity Fair's Richard Lawson didn't seem to hate it, either; he called Venom "just stupid enough to be fun without being a waste of time," and said that, "for several weird stretches ... Venom is a bouncy good time."
The many negative reviews, however, might be welcome news to the Lady Gaga fans who were allegedly posting fake bad reviews of Venom, hoping that the Gaga-led A Star Is Born would beat out Venom for the top spot at the box office on their shared opening weekend. But, as Travers wrote in his Rolling Stone review, they needn't have bothered with the fake reviews: "No one has to fake a bad review of this."