What Melania Trump wore her 89th week as first lady — looks on looks on looks for her week in Africa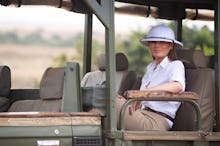 Leopard-print Manolo Blahniks for Melania Trump's trip to Africa. Leopard, the same animal her stepsons have come under condemnation for hunting. "Her trip was delayed after Donald Jr. tried to shoot them," novelist Paul Rudnick joked on Twitter.
Welcome to our latest installment of What Melania Wore.
For her first solo foreign trip as first lady, a week-long trip to Africa with stops in Ghana, Malawi, Kenya and Egypt, the first lady opted for couture-adjacent, as per usual, but with a mix of flats and even Converse kicks.
"It's her trip," Trump's stylist Hervé Pierre told Women's Wear Daily earlier this week. "She really decided to do it. From the beginning, she wanted to do this."
Monday, Oct. 1: The lady wore leopard
Departing from Joint Base Andrews in Maryland, Mrs. Trump opted for a $750 suede leather trench coat (originally $1,695) courtesy of American label Vince and $595 leopard-print suede Blahniks.
"She looked as though she had stepped off the runways of Milan," Breitbart's John Binder wrote, also comparing this look to that of Jackie Kennedy. Being that it's simply a trench coat and pumps, the comparisons really are limitless.
But sure.
Tuesday, Oct. 2: Arriving in Ghana in Celine
Arriving at Kotoka International Airport in Accra, Ghana, before heading to Greater Accra Regional Hospital, Trump opted for a burgundy and white Phoebe Philo-designed Celine dress as she greeted Ghana's own first lady, Rebecca Akufo-Addo.
The leopard-print heels were replaced by white ones.
Wednesday, Oct. 3: Toned-down earth tones for day two in Ghana
On Wednesday, Mrs. Trump toured Obama Hall in the Emintsimadze Palace in Ghana's Cape Coast in an olive-colored jacket, tailored tan pants and, according to Women's Wear Daily brown stilettos.
She then ditched the stilettos for flats (seen below) for a tour of Cape Coast Castle, a former slave trading fort.
Later, at the receiving line at the Emintsimadze Palace, she added a belt.
Thursday, Oct. 4: Flats then heels then flats then heels
Mrs. Trump began the day taking off from Kotoka International Airport and heading to Malawi. She opted once again for flats, this time Converse tennis shoes, along with olive pants and a baby blue button-down shirt.
Mrs. Trump arrived at Lilongwe International Airport in Malawi in a silk camel trench dress by Joseph (retailing for $745) and matching Manolo Blahnik heels.
"First lady Melania Trump is letting loose on her tour around Africa," wrote Breitbart's John Binder, "rocking playful silhouettes to match her joyous attitude."
There were signs.
Mrs. Trump changed out the belt and snakeskin flats for a visit to Chipala Primary School in Lilongwe.
Then, at the state house with first lady of Malawi Gertrude Maseko, she reverted back to the old belt and heels.
Later that evening, arriving at Jomo Kenyatta International Airport in Nairobi, Kenya, Mrs. Trump opted for an Erdem kasia paisley parrot shirtdress (which retails for $1,200) cinched with a yellow belt.
Friday, Oct. 5: Elephants and singing in Nairobi
The next day, Mrs. Trump headed to the David Sheldrick Elephant Orphanage to play with some baby elephants.
Trump opted for khaki pants and knee-high boots with another button-down. She kept the look as she continued to The Nest: Children's Home, an orphanage in Nairobi, where, according to a pool report, Mrs. Trump walked and sang with the children.
Trump then opted for flats once again, along with a yellow and white striped dress (designer unknown) to meet first lady of Kenya Margaret Kenyatta.
She remained in this dress later that day while in attendance at the Kenya National Theatre in Nairobi.
What a week it's been for the first lady!
You can read previous recaps of what Melania Trump wore here.