"Rot in hell Dave": Abigail Spanberger fires campaign workers over note left on opponent's door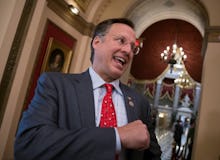 Abigail Spanberger's campaign for Congress fired four teenaged campaign volunteers after they apparently left a rude note on the front door of her Republican opponent, Rep. Dave Brat.
According to the Washington Post, Brat emerged from his home over the weekend to find one of Spanberger's campaign fliers in the race for Virginia's 7th Congressional District affixed to door, accompanied by a personal message: "Rot in hell Dave :)."
Brat called both Capitol police and Henrico County police, according to the report.
In a statement, Brat's campaign spokeswoman, Katey Price said that the note was part of a larger strategy of intimidation on Spanberger's part.
"Abigail Spanberger and her campaign are trying to intimidate Congressman Brat and his family in their own home," Price said. "Abigail Spanberger should denounce the outrageous actions of her own team and dismiss the people involved. She should also issue an apology to the Brat family."
In a separate statement provided to the Post, Dana Bye, Spanberger's campaign manager, said after catching wind of the note's existence, she and other Spanberger campaign officials immediately looked into which volunteers had been charged with canvassing Brat's neighborhood that day and pulled the teens responsible in for questioning.
"This type of behavior is completely unacceptable and beneath the dignity of this race, and we have already notified these students that they are not welcome to volunteer with our campaign again," Bye said.
Four years after Brat pulled off a shocking primary upset to unseat then-House majority leader Eric Cantor, he and Spanberger, a Democrat, are now locked in a tight race to represent the suburban 7th district of Virginia.
According to the most recent assessment of the latest polls from RealClearPolitics, the contest is currently considered to be a toss-up.