Connie Chung opens up about a sexual assault in her 20s: "I wish I could forget"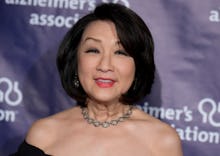 In an open letter published Wednesday in the Washington Post, veteran broadcast journalist Connie Chung opened up about a sexual assault she experienced in her 20s and its lasting effects on her life.
The letter was addressed to Christine Blasey Ford, whose recent testimony before the Senate Judiciary Committee about a sexual assault that allegedly occurred at the hands of Supreme Court nominee Brett Kavanaugh inspired countless survivors, including actor Busy Philipps, to come forward with their own stories of sexual assault and rape. Now Chung, too, is among those who have shared their stories.
In the letter, which begins "Dear Christine Blasey Ford: I, too, was sexually assaulted," Chung describes how her alleged assault happened in the 1960s, when she was in her 20s. The perpetrator, she alleged, was her family doctor, the same doctor who delivered her when she was born.
"The exact date and year are fuzzy," Chung wrote in the essay. "But details of the event are vivid — forever seared in my memory."
Chung said the assault took place when she visited the doctor for birth control pills.
Echoing Ford's testimony, Chung described some elements of the scene in great detail. Although she said she couldn't recall the exact timing of the assault, Chung described the "creaky wooden floors" of the doctor's home office, the "cold iron stirrups" she put her heels into and the graphic details of her assault.
"While I stared at the ceiling, his right index finger massaged my clitoris," Chung wrote. "With his right middle finger inserted in my vagina, he moved both fingers rhythmically. ... Suddenly, to my shock, I had an orgasm for the first time in my life. My body jerked several times. Then he leaned over, kissed me, a peck on my lips, and slipped behind the curtain to his office area."
"I don't remember saying anything to him," she continued. "I could not even look at him. I quickly dressed and drove home."
Chung never filed a police report, saying, "It never crossed my mind to protect other women. Please understand, I was actually embarrassed about my sexual naïveté. I was in my 20s and knew nothing about sex. All I wanted to do was bury the incident in my mind and protect my family."
She wrote that she did tell her husband, TV host Maury Povich, "years later." Chung, a former anchor of programs like NBC Nightly News, 20/20 and CBS Evening News, credited the diligent reporters of the #MeToo era for opening the door for her to speak about her experience.
"When the superb reporting of the New Yorker's Ronan Farrow and the New York Times' Megan Twohey and Jodi Kantor helped touch off this intimate discussion, my dirty little secret reared its ugly head and I told anyone who would listen," Chung wrote. "Christine, I, too, am terrified as I reveal this publicly. I can't sleep. I can't eat. Can you? If you can't, I understand. I am frightened, I am scared, I can't even cry."
Chung concluded the letter, "I wish I could forget this truthful event, but I cannot because it is the truth. I am writing to you because I know that exact dates, exact years are insignificant. We remember exactly what happened to us and who did it to us. We remember the truth forever. Bravo, Christine, for telling the truth."