Mic Daily: What's next after the 'New York Times' report on Trump's shady finances?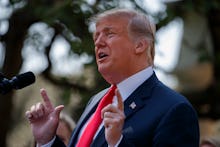 Welcome to Mic Daily: Mic's newsletter that cuts through the noise and lands in your inbox every weekday. We carefully curate each edition to send you a cross section of our most vital stories of the day.
Want more entertainment news in your inbox? Sign up for Hype Daily— Mic's morning entertainment briefing. It's got all the news you need to start your day.
An Associated Press investigation into the school security industry found that fortifications designed to decrease the likelihood of deadly mass shooting events are being championed by both lawmakers and educators across the United States — despite no existing evidence the solutions can actually help save students' lives.
All Americans with a cell phone received a test "presidential alert" on their phones Wednesday, but a new lawsuit is fighting back against the mandatory messages.
New York City's West Village — home to the birthplace of the gay rights movement — has long embraced diversity. But recent events surrounding allegations of racism at local gay bars suggest there's still much more to be accomplished.
Out magazine reported Sunday that a manager at the Monster, a renowned bar located across the street from the historic Stonewall Inn, criticized a poster advertising an upcoming drag show for "promoting [a] black night" which he said was "not good for the businesses."
After the New York Times published a yearlong investigation into President Donald Trump's finances — one that annihilates his carefully crafted image of being a self-made billionaire and uncovered instances in which he engaged in "outright fraud" — many are wondering whether he will face consequences for his alleged financial misdeeds.
The answer is yes, if Democrats win control of the House in November. With control of the House comes control of the House Oversight Committee, a powerful investigative arm of Congress that has the ability to probe a wide array of issues within the federal government.
Somehow, dressing up as a water bottle was the least embarrassing thing Kanye West has done over the last few days.