Zeal & Ardor are blending black metal and traditional songs black people sang during slavery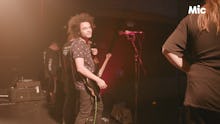 Black metal bands are infamous for embracing neo-Nazi ideologies. In the 1980s, the satanic subgenre of metal emerged, and by the 1990s, a neo-fascist scene, the "national socialist black metal," had evolved out of the genre and spread throughout Europe. For instance, Norwegian bands like Burzum and Mayhem were known for church burnings, committing murder and supporting neo-Nazism.
But now there's a new wave of black metal that's renouncing white supremacy and incorporating, instead, the African-American musical roots of rock 'n' roll. At the forefront of that movement is the band Zeal & Ardor, Mic Dispatch correspondent Wilbert Cooper reports.
"There was this thought, you know, that black metal should be whitewashed or just pure Aryan bullshit," Manuel Gagneux, Zeal & Ardor lead singer, told Cooper. "But it's impossible; it's still rock and roll and we all know where that came from."
In the group's music, Zeal & Ardor references work songs, sung by black people during slavery and the Jim Crow era. According to Jaimeo Brown, an expert in work songs, the influence of this style continues to influence popular music today. He mentions the hook of rapper Kendrick Lamar's 2015 "Alright," which became an anthem for Black Lives Matter protesters, as an example.
"We gon' be alright/ Do you hear me, do you feel me we gon' be alright," the Compton emcee chants on the record.
"You could put some dance, African dances, on that and put that hook on and it would look like this fits together right here," Brown told Cooper. "It would be harder for me to find a song that didn't have influences from that history."
Although listeners may not expect to hear work songs interpolated with black metal, to Gagneux these sounds balance each other out well when blended.
"Black metal can be listened to in two ways," Gagneux explains. "The first obvious one is that really harsh, aggressive thing that will kind of shoo you away, and there's a second layer to it that's kind of beautiful and tender in a weird way. But if you precede that with a work song element that kind of invites you, lures you into the song anyway, it's kind of a shortcut to that soft metal part. So they play off of each other really well, strangely enough."
For Zeal & Ardor fans like Christina Long — the creator of Blkgrlswurld, a zine for women who love rock — the marriage of these two styles has a very special meaning.
"I think it's really nice that Zeal & Ardor are touching on it in a very literal way by pulling in African-American spirituals and that social rock, soul, R&B for folks who might not have realized that to me that was always kind of there," Long said. "But now it's a lot more clear for folks that these things are very much built together."
Check out episode 24 of Mic Dispatch above — only on Facebook Watch.
To catch future episodes of Mic Dispatch, follow Mic Dispatch on Facebook Watch. For more stories about the show, visit the Mic Dispatch collections page.