Today in Trump's America: White House "fully confident" on Kavanaugh, sends FBI interviews to Senate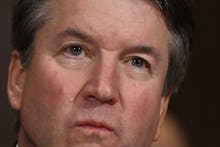 Welcome to Mic's daily read on Donald Trump's America. Want to receive this as a daily email in your inbox? Subscribe here.
Good morning from Emily Singer at Mic.
Here's what's happening in Trump's America:
• The FBI has completed its investigation of the sexual assault allegations against Supreme Court nominee Brett Kavanaugh, and senators will be able to view the findings Thursday morning. Republican senators will get to view the findings first, from 8-9 a.m., followed by Democratic senators from 9-10 a.m.
About last night: White House sends FBI interviews to Senate for review
The FBI has completed its investigation into the sexual assault allegations against Kavanaugh, and the results have been sent to Capitol Hill for senators to review, the White House said in a statement at 2:30 a.m. Thursday morning.
The White House gave no indication in its statement of what the FBI probe found, only saying it is "fully confident" the Senate should confirm Kavanaugh. The first vote on his nomination is scheduled for Friday.
"The White House has received the Federal Bureau of Investigation's supplemental background investigation into Judge Kavanaugh, and it is being transmitted to the Senate," White House spokesman Raj Shah said in a statement. "With Leader McConnell's cloture filing, senators have been given ample time to review this seventh background investigation. This is the last addition to the most comprehensive review of a Supreme Court nominee in history, which includes extensive hearings, multiple committee interviews, over 1,200 questions for the record and over a half million pages of documents. With this additional information, the White House is fully confident the Senate will vote to confirm Judge Kavanaugh to the Supreme Court."
The New York Times reported, however, the FBI only reached out to 10 people and interviewed nine of them. Those people did not include Kavanaugh nor Christine Blasey Ford, the Palo Alto University professor who accused Kavanaugh of sexual assault in the first place.
The FBI also did not look into questions about Kavanaugh's drinking in high school or college, according to the Times.
That is likely to leave Democrats saying the FBI review was insufficient and give them cover to vote against Kavanuagh.
It's still unclear how key Republican Sens. Jeff Flake of Arizona, Susan Collins of Maine and Lisa Murkowski of Alaska will react, and whether they will view the FBI probe as sufficient enough to earn their vote. If two of those three vote against Kavanaugh, along with every Democratic senator, Kavanaugh's nomination will fail.
Even before seeing the FBI investigation, Senate Majority Leader Mitch McConnell scheduled a "cloture vote" for Friday, which would end debate on Kavanaugh's nomination and set the Senate up for a final Saturday vote.
"There will be plenty of time for members to review and be briefed on the supplemental material before a Friday cloture vote," McConnell said in a speech on the Senate floor.
Today in Trump's America: All eyes on key GOP senators
With the FBI probe complete, Kavanaugh's fate rests on a handful of GOP senators who will determine whether the probe was sufficient enough to garner their support. It will become clearer Thursday morning after senators gain access to the FBI interviews whether Kavanaugh has the votes to be confirmed or if his nomination will fail.
Flake had initially said he was voting for Kavanaugh, but hours after he was confronted by two sexual assault survivors on Capitol Hill, he helped push for the FBI investigation. Murkowski and Collins have yet to say how they'll vote, but Collins has suggested she was "close" to a decision on Kavanaugh.
"I'm close, I'm very close but I'm not all the way there yet," Collins said before Ford's testimony.
There are also two Democratic wildcard votes: Sens. Heidi Heitkamp of North Dakota and Joe Manchin of West Virginia. Both are up for re-election in states Trump carried by wide margins, and both could face pressure to vote for Kavanaugh to appease their constituents.
Heitkamp is in worse electoral shape than Manchin, as she is trailing in the polls against her GOP opponent, whereas Manchin leads by a comfortable margin.
And the rest...
Judge halts Trump immigration order: A federal judge temporarily blocked the Trump administration from ending Temporary Protected Status for roughly 300,000 immigrants from El Salvador, Haiti, Nicaragua and Sudan. Many of those 300,000 immigrants have been living in the U.S. for decades under Temporary Protected Status. If that status were revoked, they could be deported unless they found another immigration status, according to Politico.