Hype Daily: Johnny Depp's cringey new interview and more entertainment news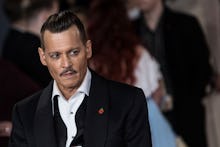 Welcome to Hype Daily, Mic's morning entertainment roundup. Here's everything you need to catch up on in the entertainment world and what to look forward to today. Want to receive this as a daily email in your inbox? Subscribe here.
Good morning readers and happy Thursday! Hopefully, everyone is having a lovely week, and if you aren't, then hang in there because it's almost over. Let's get into the news.
Johnny Depp gave a long interview denying allegations of abuse, Amber Heard's team says he's "continuing his psychological abuse"
In a new and very, very long profile of actor Johnny Depp published Tuesday in GQ U.K., Depp spoke about allegations of domestic abuse by his ex-wife, Amber Heard, denying he was ever abusive and suggesting Heard made up the allegations against him.
"To harm someone you love? As a kind of bully? No, it didn't, it couldn't even sound like me," Depp said. "So, initially, I just kept my mouth shut, you know? I knew it was going to stick on me and it would get weirder. Keep going, you know? Go nuts. I ain't going to get into a pissing contest with someone about it."
Heard's legal team responded to the profile in a statement, published in the Hollywood Reporter: "If GQ had done even a basic investigation into Mr. Depp's claims, it would have quickly realized that his statements are entirely untrue. Mr. Depp has blatantly disregarded the parties' confidentiality agreement and yet has refused to allow Ms. Heard to respond to his baseless allegations, despite repeated requests that she be allowed to do so. ... Mr. Depp is shamefully continuing his psychological abuse of Ms. Heard, who has attempted to put a very painful part of her life firmly in her past. One need only look at the physical evidence to draw the proper conclusion."
And then Depp's lawyer responded to that statement, saying Depp was actually "the abuse victim" and accusing Heard of "manipulation of the important #metoo movement and its real victims, that she has used to pursue her own ends." This... is not going to end anytime soon, is it?
Mischa Barton is joining the new reboot of The Hills
In cheerier news, Mischa Barton is, for some reason, joining the cast of the reboot of the MTV "reality" TV series The Hills. In case you didn't remember, The Hills was a reality show centered around Laguna Beach's Lauren Conrad, who moved to Los Angeles to have internships and hang out with other rich people.
MTV recently announced it was rebooting the series without Conrad. Original cast members Spencer Pratt, Audrina Patridge, Jason Wahler, Frankie Delgado, Justin Bobby Brescia, Stephanie Pratt, Brody Jenner and Whitney Port will be there though, according to the Hollywood Reporter, and now so will Barton, star of The O.C. This should be interesting.
Check out Christian Bale as Dick Cheney in the new Vice trailer
We knew it was happening, but it's still amazing to see — the new trailer for the upcoming Dick Cheney biopic Vice came out Wednesday, and actor Christian Bale's transformation into the former vice president is truly wild. Bale plays Cheney in the new film, which comes from Big Short director Adam McKay.
Amy Adams plays Lynne Cheney, Steve Carell plays Donald Rumsfeld and Sam Rockwell also stars as a very convincing George W. Bush. The movie comes out this Christmas. Check out the new trailer here.
Netflix is working on a new Narnia adaptation
Streaming giant Netflix just closed a deal with the C.S. Lewis Company to develop new shows and movies based on the author's beloved Chronicles of Narnia series, Deadline reported Wednesday. According to the outlet, this new deal "marks the first time that rights to the entire seven books of the Narnia universe have been held by the same company."
That opens up a lot of possibilities for Netflix, which seems to be hoping to build out a whole "cinematic universe" based on the series, according to Deadline. But don't get too excited just yet — any new Narnia content is still a ways away.
Put this on your radar: A Star Is Born
Do I really even need to say anything about this? A Star Is Born comes out this Friday. Bradley Cooper. Lady Gaga. Singing. Oscar bait. Meaningful glances. I'm definitely seeing it this weekend, probably with my mom.