Trump claims Kavanaugh was treated unfairly by "mean and despicable" Democrats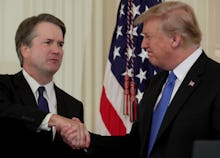 President Donald Trump is slamming Democrats for what he said was their "harsh and unfair" treatment of Supreme Court nominee Brett Kavanaugh, who has been publicly accused by three women of sexual abuse.
In a tweet early Thursday, Trump claimed "mean" Democrats are attempting to destroy Kavanaugh's life with "uncorroborated" allegations and suggested the battle over the Supreme Court nominee's confirmation could help Republicans in the upcoming midterms.
"The harsh and unfair treatment of Judge Brett Kavanaugh is having an incredible upward impact on voters," Trump tweeted Thursday. "The PEOPLE get it far better than the politicians. Most importantly, this great life cannot be ruined by mean & despicable Democrats and totally uncorroborated allegations!"
The tweet came as the White House announced in a statement overnight that the FBI completed its investigation into the sexual assault allegations against Kavanaugh and the administration is "fully confident" he'll be confirmed to the nation's high court.
Trump ordered a "supplemental" investigation into the accusations on Friday after key Republican senators suggested they may vote against Kavanaugh without one, casting the nominee's confirmation into question.
Democrats, however, have raised concerns about the "limited" scope of the probe and its independence, and they may argue it was insufficient. Neither Kavanaugh nor Christine Blasey Ford, the first woman to publicly accuse the judge of sexual misconduct, were interviewed by the FBI as part of its investigation. Ford's allegations first surfaced in stories published by the New Yorker and the Washington Post in September.
Ford, a psychology professor at Palo Alto University, described during an emotionally charged hearing last week how a drunken Kavanaugh allegedly forced himself on her at a gathering when the two were teenagers in the early 1980s.
But Kavanaugh angrily — and at times tearfully — denied the accusations against him and accused Democrats of attempting a "political hit" on him. The judge also made a number of false or dubious claims.
Trump has been a full-throated defender of Kavanaugh's since the allegations first surfaced last month, and he initially showed uncharacteristic restraint in his comments on Ford. He has since attacked her credibility on Twitter and openly mocked her at a campaign rally in Mississippi on Tuesday, drawing condemnation from Democrats and the three Republican swing vote senators: Jeff Flake (R-Ariz.), Lisa Murkowski (R-Alaska) and Susan Collins (R-Maine). Two Republican defections could tank Kavanaugh's confirmation.
The Senate is set to review the FBI's findings Thursday morning.
It's not yet clear if the GOP has the votes to put Kavanaugh on the bench. It's also unclear how the battle over his confirmation could impact November's midterm elections. Democrats had once held a significant lead in national polls, but an NPR/PBS/Marist poll released Wednesday suggested the Democratic edge has dwindled amid the Supreme Court drama.