Meet the woman behind @oldceline, an Instagram account dedicated to Phoebe Philo's Céline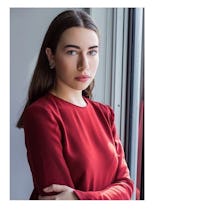 We'll always have Phoebe Philo — or rather, a dedicated archive of her work during her decade-long tenure at Celine (formerly Céline under Philo) thanks to Gabrielle Boucinha, the brainchild behind @oldceline.
Part archive and part tribute, @oldceline was first started by Boucinha in early September ahead of Hedi Slimane's Celine debut. She's not the only one either, as recently as Saturday another account @phoebesceline sprouted up online with a similar intent. The underlying message behind both accounts: Celine without Philo simply isn't Celine.
"I have always been interested in fashion editorial, career-wise, but in a broader sense. How we can use the massive platform fashion holds to create a positive change toward real-world issues," Boucinha said in an interview. "Of course, Phoebe Philo's Céline was a huge inspiration of mine. I can think of no one more progressive, powerful and unique."
As the Washington Post's Robin Givhan notes in her blockbuster piece "Wanted: Fashion designers who truly respect women. Now more than ever," the industry paid little attention to the brand before Phoebe Philo came along in 2008. It was Philo who helped transform the brand into a marquee name, one that balanced sophistication with accessibility.
"When she took her runway bows one season wearing a pair of Stan Smith Adidas sneakers — well, oh boy," Givhan writes. "It was as if the nice leader of the cool-girl pack had declared that women had a right to be both comfortable and fashionable."
Now, the reins have been passed to Slimane, a man who added menswear to a brand regarded for its female empowerment. Cringe. We chatted with Boucinha about her thoughts on Slimane's tenure so far, why she created @oldceline and her thoughts around the large number of men creating womenswear.
Mic: How did the idea for the account first come about?
Gabrielle Boucinha: I started it on Sept. 3. I would have never imagined that it would have gained this following in one month. I have such a large collection of both campaign and runway photos from Phoebe's time that I wanted to start to get everything all in one place. I'm hoping to create a brand that celebrates the old Céline. I am almost done creating the website, oldceline.com where I will launch the merchandise collection I've been working on. I love editorial design, branding and writing so, I really want to publish a book that displays Phoebe Philo's decade at Céline. It'd be a collection of all the shows, campaigns, and interviews in one beautiful coffee table book. I've always loved print and think it offers a completely different experience than reading digital content. 
What were your predictions around Hedi Slimane's Celine and did they come to reality?
GB: My predictions were that I'd be disappointed and they indeed became a reality. I was disappointed but not surprised. Nothing and no one will replace Phoebe, but this collection was the opposite of everything that the old Céline stood for. I've been comparing the runway looks from old Céline to Hedi's debut show and really there is no comparison at all. The old Céline woman was strong, powerful and beautiful without trying, which I think is what made old Céline so impactful. It was so effortless that women wearing it felt confident, and could live their daily lives without thinking so much about fashion. They dressed for themselves. Hedi dressed his girls for the male gaze. Phoebe's designs were centered around the female gaze. The campaigns promoted natural beauty for all ages. This was a powerful statement for a leading fashion house to make. To say "Less is more" instead of "You need this and this and this."
What is it you love most about Phoebe's Celine?
GB: Phoebe Philo in my opinion is the Gabrielle Chanel of our time — maybe even better. She presented us with so many inspiring years and empowered women so gracefully. She transformed Céline into one of the most coveted labels and created groundbreaking campaigns for the fashion world. She changed our understanding of 'chic' and proved to the world that an interest in fashion does not lower ones intellect, and designed for modern women working in all industries.
Céline had always been about natural beauty, less is more, and female empowerment which has always been important but even more so now. It was very liberating to see a fashion house present what women actually want to wear. Phoebe also expressed the importance of always thinking wider than fashion, to only buy what you need and to invest in the pieces that will last. She changed the way the modern woman dresses. With the wide leg trouser when everyone was wearing skinny jeans. With the midi-length skirt that should permanently replace the mini. And with combining slip dresses and sneakers for an elegant and chic modern woman. Her designs resulted in women feeling strong, powerful, and beautiful. A very political impact to make and a very important impact to make, especially for women with everything that's going on right now. We really did lose a lot when we lost Phoebe at Céline. 
What is your biggest critique of Hedi's Celine?
GB: I think the most important part of being a designer is being able to adapt to the changes of working for different houses. Hedi has a very specific dark, rock 'n' roll, black and white aesthetic to everything he does. I don't think it's innovative to carry the same 'look' to every house. The looks from his debut collection at Celine looked as if they walked over straight from his last collection at Saint Laurent. Last Saint Laurent show at 1 p.m., debut Celine collection at 2 p.m. 
Do you think it's troubling how many men are at the helm of womenswear?
GB: I do. It's a large part of the reason why Phoebe was able to connect with so many women, both as a mother and as an icon in fashion. Isabel Marant, Stella McCartney and the Olsens for The Row are also favorites of mine. 
Do you see a world in which the Celine that you loved, "the old Celine," is not lost?
GB: I'm not really into the future of Celine. I just think it will never be the same as Phoebe's era. I think most people, and women collectively, feel the same way in a sense that when Phoebe left, we left with her. And surely, we'll follow wherever she may end up next. 
What do you think Phoebe is thinks about this new collection?
GB: I think she is confident and content with the iconic empire she created for Céline for the past 10 years. There is simply nothing to compare between Phoebe's Céline and Hedi's Celine. I don't think there has been anything like this before — such a strong backlash for a switch in creative direction, especially since it happens so often in fashion these days.
Personally, I have not seen any positive feedback from Hedi's Celine. Old Céline never begged for attention. It was this quiet, effortless confidence that everyone noticed. It's not even about Hedi. It's about what women and what the fashion industry collectively gained and then collectively lost. Phoebe changed the way people perceived femininity and the word 'chic.' Phoebe's campaigns presented real women with real strength and stories, with women like Daria Werbowy and Joan Didion. This whole movement, especially this particular time, actually doesn't have to be about the fashion at all. I think there is a very political stance to it. After all, fashion always reflects what's going on in the world.