DOJ announces new charges against Russian intelligence officers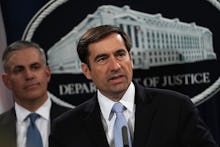 The Department of Justice on Thursday announced charges against seven Russian intelligence officials over the Kremlin's "malicious cyber activity against the United States and its allies."
According to John Demers, the assistant attorney general for national security, members of the Russian military intelligence agency GRU engaged in a hacking conspiracy to obtain nonpublic health information about athletes and others in the anti-doping files of multiple sports organizations in the U.S. and abroad.
Demers said Thursday the Kremlin's goal was to release the information "selectively and misleadingly" in an effort to undermine organizations' efforts to secure the "integrity of the Olympics and other games."
"This was a criminal conspiracy that caused real harm to real victims," Demers said in a press conference.
Russia was banned from the 2018 Winter Olympics in a massive doping scandal.
According to the DOJ, Russia also took aim at a U.S.-based nuclear energy company and a chemical weapons watchdog in The Hague, which was probing the March attack on former Russian double-agent Sergei Skripal and his daughter, Yulia, in the United Kingdom. The U.K. in September charged two Russian nationals over that gas attack, which both Skripal and his daughter survived.
Thursday's charges from the DOJ are just the latest to be leveled against Russian intelligence this year.
In February, a federal grand jury charged 13 Russian nationals and three Russian agencies in connection to Moscow's interference in the 2016 United States election. In July, a grand jury charged a dozen Russian intelligence officers over the Kremlin's election meddling.
Special counsel Robert Mueller's probe has also brought down several members of President Donald Trump's inner circle, including former national security adviser Michael Flynn and former campaign manager Paul Manafort.
Trump routinely rails against the investigation, describing it as a "witch hunt."
The Trump administration has hit Russia with sanctions over the Skripal attack, as well as its "malign activity around the globe" — including Moscow's interference in the 2016 U.S. election.