Time's Up, the group formed after #MeToo, has hired Lisa Borders as its first CEO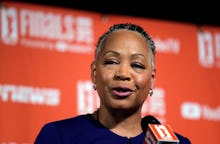 It took a long time for the moment to arrive, and then it all happened so quickly. On Oct. 5, 2017, the New York Times published an exposé revealing Hollywood executive Harvey Weinstein had been sexually harassing actresses and other women in his path for three decades and had paid off several of his accusers. Though reporters Megan Twohey and Jodi Kantor gave the names of seven female accusers, the list of women who say they were harassed by Weinstein has since swelled to at least 87 and includes A-listers like Gwyneth Paltrow and Angelina Jolie.
Weinstein was only the beginning of the reckoning. Galvanized by the bravery of his accusers and the steep consequences that followed (the board of the Weinstein Company fired him days after the Times report), more and more women began to share their own stories of sexual assault and harassment, whether in essays or to reporters or via the hashtag #MeToo. Since then, other powerful men were dismissed or decried, including chef Mario Batali, media executive Les Moonves, Oscar winner Kevin Spacey, TV anchor Matt Lauer, comedian Louis C.K. and Pulitzer winner Junot Diaz, among so many others. Supreme Court nominee Brett Kavanaugh is one of the latest to join the list.
The push for women to speak out about their experiences has become known worldwide as the #MeToo movement, a name revived from a concept created by Tarana Burke in 2006. Of the many offshoot groups, protests and discussions from #MeToo, one was born specifically in Hollywood. On Jan. 1, a group of the industry's most powerful actresses, directors, agents and other executives launched Time's Up, their own push for solidarity, inclusivity and change. Now, nearly a year after the Weinstein report, the group has hired its first CEO: Lisa Borders.
Time's Up first explained its mission in a letter that began, "Dear sisters."
"We want all survivors of sexual harassment everywhere to be heard, to be believed and to know that accountability is possible," the letter reads. "The struggle for women to break in, to rise up in the ranks and to simply be heard and acknowledged in male-dominated workplaces must end; time's up on this impenetrable monopoly."
Time's Up initiatives have so far included a legal defense fund to help women pay for lawsuits or to cushion any lost wages from reporting discrimination; a demand for gender equality in movie projects and studios; and a push for new legislation that would penalize companies for sweeping harassment under the rug.
The group's reach was visually apparent at the Golden Globes on Jan. 7, when actors pledged their devotion to the cause by wearing black dresses or suits. It was hard to spot an actress who didn't participate in the color scheme: Reese Witherspoon, Natalie Portman, Kerry Washington, Emma Stone, Gal Godot, Nicole Kidman, America Ferrera, Amy Poehler and Meryl Streep all participated, as did Weinstein accusers Jolie, Salma Hayek and Ashley Judd.
The legal fundraising was also hugely successful, raising over $20 million within the first two months of the campaign. By April, at least 2,500 women had applied for funds, according to Time's Up representatives.
Borders' hiring seems to demonstrate where the organization would like to go next. Until this role, Borders served as president of the Women's National Basketball Association, a position she held for 2 1/2 years. In that time, she made significant changes to raise the league's profile, such as livestreaming select games on Twitter, signing a new uniform deal with Nike and getting female players added to NBA video games for the first time.
Before the WNBA, Borders held roles in both the private and public sectors, always with a bent toward social justice. She served as vice president of global community affairs at the Coca-Cola Company, where she also chaired the Coca-Cola Foundation. She ran for mayor of Atlanta in 2009 and served as president of the Atlanta City Council from 2004 to 2010. She has held or currently holds advisory roles with multiple nonprofits, including Operation Hope and the Association of National Advertisers' #SeeHer initiative.
Until now, Time's Up has boasted many big names but no true leader. Borders will clearly change that. What's more, the organization is staffing up: In an exclusive for Vanity Fair, Time's Up announced the hiring of seven full-time staffers across New York and Los Angeles. Shonda Rhimes, a Time's Up member and major donor, said, "Lisa has the qualities I wanted most, which is proven experience and commitment to gender and inclusion issues and an amazing track record moving the needle of change."
Speaking with Vanity Fair, Borders sounded defensive of her new employer when prompted to discuss the group's current brand, which is powerful, wealthy actresses on red carpets in southern California. "It's out here for everybody. This is not a club," Borders said. "I would just offer the invitation to everyone, right here, right now. Come join us on this journey."
That branding, whether intentional or accidental, has been a source of criticism in the group's first few months. But Borders' response suggests she's aware of that perception and desires to change it. The path ahead remains unknown, but the executive certainly seems well-equipped to blaze it.