This Week in Food and Travel: The problem with the Weight Watchers rebrand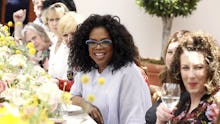 On Tuesday, Weight Watchers announced it was shifting in a new direction — one geared toward wellness. But despite its feel-good commercials and attempts at "inspiring healthy habits," the program still lacks the one thing that could benefit it most, according to one former Weight Watcher: actually empowering its members.
In other news, Mic took a look at how women in the restaurant industry are addressing issues of sexual harassment and wage inequality, examined the existing problems of race within New York City's gay community and explored the James Beard Foundation's recent policy changes to improve diversity and inclusivity.
The new WW wants to take the focus off weight and numbers — but its issues remain the same.
A group of around 75 people came together to discuss harassment, mental health and other challenges for working parents.
The gay community still has a lot more to accomplish when it comes to inclusivity.
The James Beard Foundation's policy changes are part of a broader effort to increase gender, race and ethnic representation in its prestigious awards.