Racist dog whistles from Republicans haven't sunk black progressive Antonio Delgado's campaign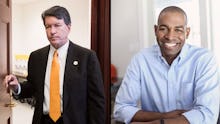 Despite a series of dog whistles from Republicans seeking to derail his campaign, Democrat Antonio Delgado is pulling ahead in the contentious battle for New York's 19th Congressional District.
According to a new survey released by the AARP on Tuesday, Delgado currently leads Republican incumbent Rep. John Faso by a margin of 43% to 36% among voters over age 50. While RealClearPolitics still ranks the contest as a dead heat, a Monmouth University poll released in September also put Delgado ahead, by a margin of 3 points.
"With five weeks to go before Election Day, candidates in New York would be wise to listen to the state's most powerful voting group: 50-plus voters," AARP New York state director Beth Finkel said in a statement. "History shows older voters turn out in force, and AARP is seeking to ensure issues of particular importance to older voters are front and center — [issues] like Medicare, Social Security, prescription drug costs and family caregiving."
The poll surveyed registered voters aged 50 and older in the suburban, majority-white Hudson Valley district where Delgado, a black man, is hoping to unseat Faso come November.
But so far, Delgado's race has proven to be an unfortunate sticking point among Republicans. On Tuesday, the New York Times reported on ads recently dropped by the National Republican Congressional Committee which attack Delgado as a "big-city rapper" for music he wrote and performed a decade ago under the name A.D. the Voice.
In a separate spot, Delgado's campaign footage is interspersed with video of him performing the old lyrics — which include his use of the word n*gger, in one instance, and appear to criticize America's role in the Iraq War — in an obvious attempt to undercut his messaging around subjects like neighborly love and patriotism.
In an interview with the Times, Delgado, a Rhodes Scholar, lamented the unfortunate racial sideshow voters were being subjected to with just over a month to go until the midterm elections.
"They really want to talk about health care — they really do," Delgado told the Times. "They want to talk about schools, the environment and jobs. Instead of talking about that, we are talking about rap."